Positive Experience of Web Chat Drives Further Growth according to respndents survey in ContactBabel research.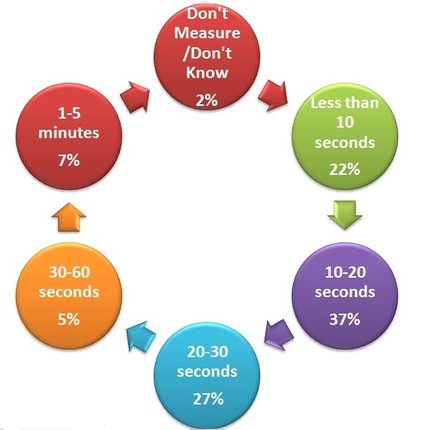 Respondents surveyed for ContactBabel's latest report, "The Inner Circle Guide to Omnichannel Customer Contact" indicate that the typical wait for a web chat session is actually less than that of a phone call.
22% of UK contact centres have an average wait time for web chat of lower than 10 seconds, with a further 37% stating that the average wait time is 10-20 seconds. This compares favourably with the average speed to answer a phone call, which is 35 seconds.
Average wait time to interact with web chat agent
Maintaining this level of accessibility for customers reinforces their positive experiences of web chat, and is encouraging customers to keep using the channel, not only when contacting a specific business, but also in general. This contrasts with many customers' initial use of the email channel in the early 2000s, where response times that were measured in days or sometimes weeks acted as a 'herd inoculation' against using the channel at all.
Little research has yet been carried out into the expectations of customers around web chat service levels, but it is reasonable to expect a channel that is being presented as an alternative to phone to have similar service level expectations. If only 7% of web chats take longer than 1 minute to initiate, then we can expect customers to flock to this channel enthusiastically.
Having said that, a web chat on a specific topic, especially a complex one – for example cancelling a TV subscription – is likely to take considerably longer than a phone call, as it is quicker to talk than type, and the agent is likely to be handling more than one enquiry at a time.
---

Additional Information
"The Inner Circle Guide to Omnichannel Customer Contact" is available for free download by Clicking Here
For additional information on ContactBabel Click Here