Noetica Opens New Durham Office to Support Growing Client-Base of Contact Centres in the North of England and Scotland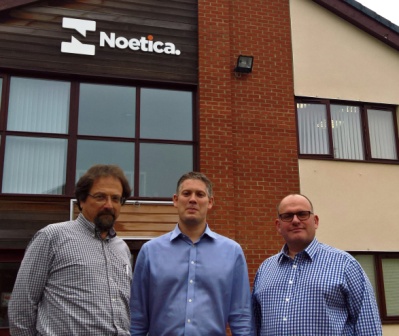 Noetica – the contact centre technology company, havey announced that it has opened a new office in Durham to provide project management, support and infrastructure services to its growing client-base in the North of England and Scotland. The Durham office is led by Noetica's new IT Director, Neil Rushton, who has spent the past 15 years working in contact centres.
Noetica has its head-office at the Hop Exchange in the thriving Borough Market area of London. Since a management buyout in 2010 the company has gone from strength-to-strength, growing the install base for the company's flagship Synthesys™ solution across contact centres in the UK and internationally.
Managing Director of Noetica, Steven Brooks comments:
"The opening of this new office marks a significant milestone in our plans to grow Noetica's operations.
We have invested in developing Synthesys™, added a new voice platform and built our infrastructure services offering. At the same time, we have grown our Noetica team, recruiting directly from the industry we serve, as well as expanding our partner network."
Brooks adds: "With a strong client-base in the north of England and Scotland, the time was right to open a second office, placing all of our expertise on the doorstep of so many of the UK's major contact centres."
---
Additional Information

Photograph Caption: (L to R) Danny Singer – CEO & Founder, Neil Rushton – IT Director & Steven Brooks – Managing Director)
Established in February 1997, Noetica is a British, London based software company specialising in the product development and delivery of customer contact systems. Since 2010 Noetica has been privately owned following a successful Management Buy Out by the senior management team and are now completely self-funded. The company employs a hand-picked team of 25 talented, passionate and dedicated people most of whom have been with the company for many years and have an encyclopaedic knowledge of our technology and the customer contact industry. Synthesys™ helps contact centres of all sizes (from five to 1,000+ seats) across the globe to achieve continuous improvements in the quality and efficiency of their business activities.
For additional information on Noetica visit their Website or view their Company Profile