NICE Launches Scenario Analyzer, Enhancing Customer Journey Analytics with Business Intelligence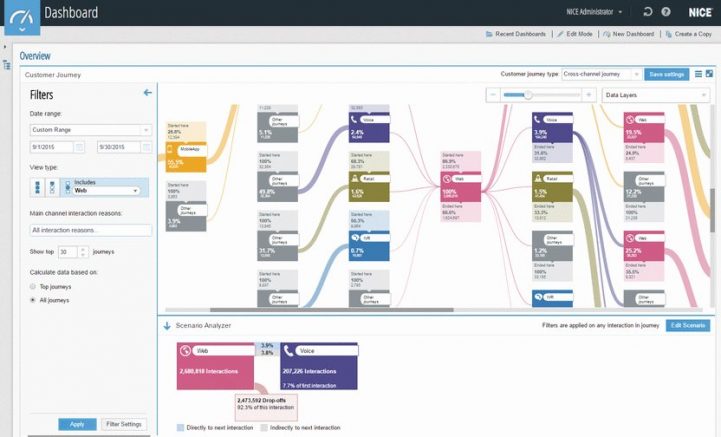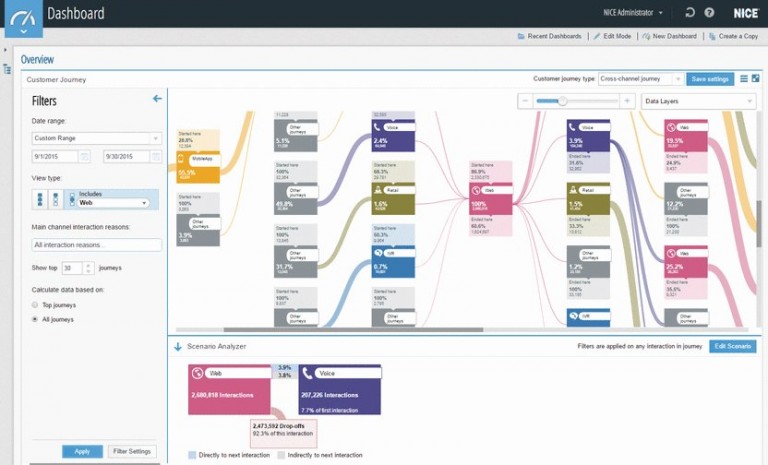 NICE's new Customer Journey Optimization capability helps organisations identify and capitalise on customer motivations and trends, minimise deflections and churn, and boost customer satisfaction
NICE have announced the launch of Scenario Analyzer, which allows organisations to conduct precise, in-depth analysis of various business challenges related to the cross-channel customer journey.
Some specific business use cases that can be addressed include:
Digital containment – Reducing digital-to-human deflection by analysing all journeys from web and/or mobile to a voice call
Churn reduction – Minimising churn by analysing all journeys ending with customers leaving the service provider
Customer experience – Increasing customer satisfaction by analysing scenarios that ended with unhappy customers
Part of the NICE Customer Journey Optimization solution, Scenario Analyzer is the first application of its kind, empowering enterprises to weed out inefficiencies, bottlenecks, and stress points in the customer journey, apply relevant business intelligence in real time, and leverage a more comprehensive understanding of the customer to deliver a perfect customer experience, every time.
Scenario Analyzer lets analysts zoom in on deflections from one channel to another based on specific use cases. They can then examine underlying factors such as initial contact reasoning, customer profile, number of transfers, and time spent on each channel. This information enables organisations to understand why customers move between channels and take prompt action to resolve recurring issues.
According to the 2016 NICE-BCG Survey of consumers worldwide, most organisations provide a poor journey experience, with 76 percent of respondents experiencing difficulties when switching channels. Respondents believe a perfect experience hinges on "the agent already knowing what I need and providing an immediate solution" (49 percent); "the rep knowing what I already did in a self-service channel" (42 percent); and "my information being forwarded from department to department" (42 percent).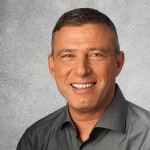 Miki Migdal, President of the NICE Enterprise Product Group commented,
"Organisations must strive to create a customer experience that is informed, personalised, and effortless – these are the major hallmarks of excellent customer service,"
"Considering customers use, on average, six different channels to interact with service providers, it is vital for organisations​ to have comprehensive cross-channel customer journey information at their fingertips so they can meet the needs and expectation of customers at every step of the journey."
"By identifying which 'leg' of the customer journey is intrinsic to achieving a particular business goal, and drilling down to understand the origin of the problem, organisations can investigate and improve the customer journey experience and drive business results," said Migdal.
About NICE Customer Journey Optimization
NICE Customer Journey Optimization uses predictive and real-time analytics as well as patented machine learning technologies to identify customer behaviour patterns and help determine customers' next move, likeliness to churn, or interest in a particular product or offer. Organisations can use this information to personalize the customer experience in real time by deciding which offers or messages to present to a customer while an interaction is taking place.
---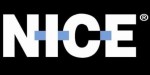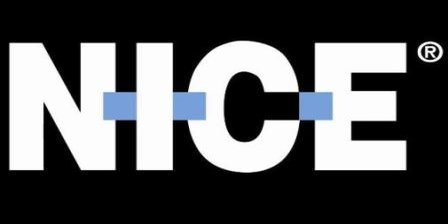 Additional Information
For additional information on NICE visit their Website