The deployment of VoIP is becoming increasingly prevalent and is changing the way companies communicate and do business.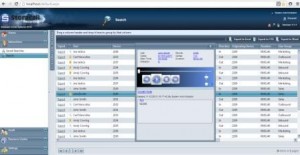 Storacall has just launched the new STIP call recording solution, which is suitable for a range of users from the smallest contact centre to large, multi-site, multi-branch, high-end environments whether for legal compliance management, dispute resolution, staff training or simply to improve the customer experience. The new Storacall STIP range of call recorders are able to record industry standard VoIP protocols providing compatibility and integration with most leading VoIP telephony platforms .
The IP protocols supported by Storacall IPST are RoIp, VoIP, SIP plus IP protocols used by the major manufacturers including Cisco Skinny, Avaya H323, H323, Nortel Unistim, Ericsson H323, Siemens, Alcatel, NEC Protims, Intertel, Shoretel MGCP, Aastra Matra, LG Nortel, NEC Sip, Panasonic MGCP, Mitel, Samsung, Aastra SIP. Integration is also available for TAPI, Nortel CMS, Microsoft Lync, Avaya CMS, Alcatel ACD and most PABX SMDR/CDR
The new Storacall STIP range is available in Budget, Professional and Enterprise formats. It has a true web-based interface so administrators, reviewers and agents simply require a browser and the appropriate security password to access all aspects of the system including call recording playback, reporting and configuration.
A single server provides from 2 to 240 channels of recording per box. For larger applications, multiple recorders can be networked together with a seamless unified user interface. A full range of archive and centralised network back-up options are available to ease the management of large call volumes and reduce administration overheads
The advanced design allows users to search, retrieve and playback calls with impressive simplicity and speed. Searches can be made across a network or the internet with multiple recorders using date, time, channel, user name or extension, call duration, CLI, dialled digits, notes and many more.
Storacall STIP also features call and password encryption, flexible call archiving policies, full API integration, notes fields, full audit trail, automatic system health checks, heartbeat monitoring, business units and groups, customisable user profiles, customisable security settings, export & email search results and search templates
Storacall STIP has been developed by Storacall using Microsoft ASP.net development & application environment with a distributed Realms architecture and because of it's modular design capitalising on existing familiar IT infrastructure, it is easy to meet evolving needs, including expanding capacity or adopting new technologies.