New Research from Calabrio: The Impact of AI on Contact Centre Agents
Are Your Agents Ready for Future Success? New Calabrio research says AI will impact customer service agents, but not in the way most of us think.
The role of technology, including Artificial Intelligence (AI), is gaining momentum in contact centres. Yet 70% of managers predict they will need more, not fewer agents in the next 10 years to handle increasingly complex customer enquiries.
As a result, agent skillsets are set to change. Almost one quarter (23%) of contact centre managers believe 'critical thinking skills like problem-solving and troubleshooting' and 'adaptability and continuous learning' (22%) are the most important proficiencies for agents to be successful in the future. However, the reality is many agents are not yet ready to meet the demands of an AI future—but they can be by:
» Putting employee engagement top of the agenda
» Adopting agent-empowering tech such as self-service scheduling apps
» Placing greater emphasis on targeted, proactive training using AI to improve agents' skills
» Measuring the results of training and development for continuous improvement
» Future-proofing recruitment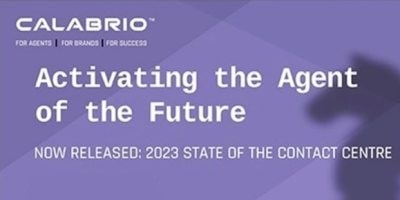 Prepare for future success, download Calabrio's 2023 State of the Contact Centre Report today by Clicking Here
Calabrio is a trusted ally to leading brands. The digital foundation of customer-centric contact centres, Calabrio helps enrich and interpret human interactions, empowering the contact center as a brand guardian.
We maximise contact centre agent performance, exceed customer expectations, and boost workforce efficiency using connected data, AI-fueled analytics, automated workforce management and personalized coaching.
Only Calabrio ONE unites workforce optimisation (WFO), agent engagement and business intelligence solutions into a true-cloud, fully integrated suite that adapts to your business.

For additional information on Calabrio view their Company Profile