Jabra have announced the launch of its newest product series, Jabra EvolveTM. Jabra Evolve is the industry's first series of professional headsets that support the communication needs of knowledge workers, where 69 percent state that disturbances in the open office have a negative impact on their performance. Through advanced noise-cancellation technologies, Jabra Evolve aims to enhance productivity by offering a personal "concentration zone."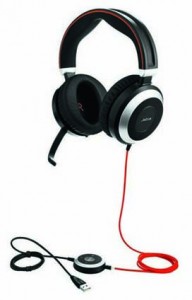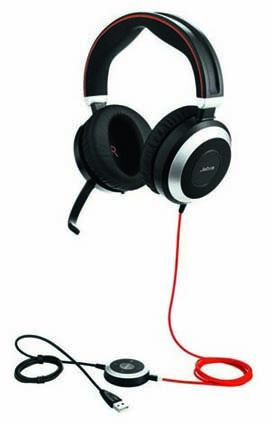 The series consists of five headsets that are all purpose-built for shutting out the hustle and bustle of the open office, including features that signal when the user doesn't want to be disturbed. Jabra Evolve is the headset series employees will love to use yet will still address employers' concerns around user productivity and adoption. The Jabra Evolve furthers this effort with a microphone boom-arm discreetly integrating into the headband. Each model in the Jabra Evolve series is designed to meet style demands of a mainstream audience while continuing to reinforce employers' ability to promote workplace productivity through personal device connectivity and a music-grade audio experience.
"The Jabra Evolve headset range create a complete personal concentration zone that boosts focus and work satisfaction for employees in increasingly open, loud and distracting workspaces," said Nigel Dunn, Managing Director, Jabra UK & Ireland. "We have designed the Jabra Evolve series with both the employer and user in mind, delivering a vital solution to improve return on investment through increased workplace productivity and accelerated user adoption."
About Jabra Evolve
The Jabra Evolve series offers a variety of features and benefits through its five models – 20, 30, 40, 65 and 80. This variety enables employers and workers alike to more effectively address a broad range of collaboration and concentration needs in the open office or virtual office – at home or 'on the go'.
Key features include:
Industry leading Noise-Cancellation
The series introduces large ear cushions with specially designed foam that adapts the padding to the individual and blocks office noise. Furthermore, the flagship product Jabra Evolve 80 offers additional noise- cancellation with an around-the-ear wearing style and is the industry's first professional headset offering active noise-cancellation to provide a full concentration zone experience.
Busy Light:
Built into the headphones, the busy light indicator effectively signals availability to colleagues.
Made For Music & Voice:
Incorporates high-end sound quality for both professional communication and entertainmen
Designed with Mobility in Mind:
Built-in Bluetooth™ capability within the Jabra Evolve 65, along with plug-and-play options for PCs or mobile devices for other models through USB and 3.5mm stereo jack outputs.
Availability
The Jabra Evolve series is available now and will be sold through authorised Jabra Business Solutions partners.
To Download the Jabra Evolve Specification Sheet Click Here
For additional information see Jabra's Company Profile