71% of businesses believe there are still greater productivity gains to be had from mobile services
Nearly two thirds (62%) of mobile workers now create as much information as they consume on their mobile devices
Organisations are concentrating on enabling access to corporate data today, though unified communications will be the focus in 2015
Azzurri survey reveals changing business priorities and mobile working behaviour on smartphones and tablets
Azzurri Communications have today announced the publication of its Mobile Productivity Survey 2014. Based on research conducted with IT and telecoms leaders at 188 organisations across a range of sectors, the survey captures the mood of those are responsible for setting the mobile strategy for over 69,000 employees in the UK. The key findings are:
Email, file sharing and accessing customer and company data are the top drivers of mobile productivity today.
Most businesses (83%) have seen an increase in the productivity of their workforce when using mobile devices out of the office, but most (71%) also believe that there are still further gains to be made.
The majority of employees (62%) use their mobile device equally for consuming information AND creating and editing content.
Organisations are currently focusing on enabling access to corporate content when on the move.
However, unified communications and collaboration tools will be the focus next year, with workflow management, video calls and video conferencing ranking as the top priorities for enabling productivity on mobile devices in 2015 – making video calls is expected to jump from 9th place to 2nd in the space of a year.
Have smartphones and tablets actually improved the productivity of the mobile workforce? According to the research, the answer is a resounding yes. Almost all businesses (93%) have seen an increase in the productivity of their workforce when using mobile devices out of the office, with 47% rating the increase as significant or substantial. Yet despite these gains, 71% still believe they could increase their productivity even further by using mobile devices and applications more effectively to enhance communications and collaboration between employees on the move.
So how can productivity be improved? When it comes to which applications have the biggest impact on the productivity of mobile workers, email remains top of the charts. It is clear that all mobile applications have an important role to play in the productivity of mobile employees. IT managers were asked to score different applications on the extent to which they affect employees' productivity, with emailing scoring 4.7 out of 5, then file sharing & access to company data (3.9), and CRM (3.5). Unified communications services such as video conferencing, IM and web conferencing scored 2.9, 2.8 and 2.8 respectively.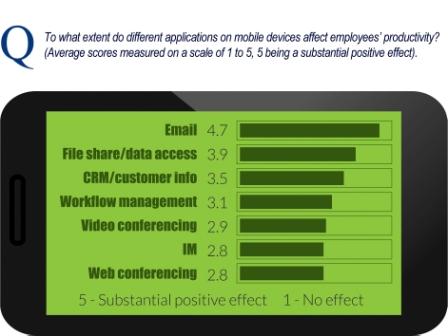 Rufus Grig, CTO at Azzurri Communications comments, "Smartphones and tablets have transformed mobile devices from being for consumption to being used for creation and editing – and so are changing the way we all work. The form factor shift towards devices with larger screens is enabling more meaningful work to be performed. Mobile productivity suites allowing proper editing of documents have made this a reality. Very importantly, these devices must be made secure, given the data and files that are now residing on millions of devices 'at large'."
However, whilst most organisations are currently concentrating on enabling the essentials of mobile productivity (email, file sharing and CRM), video conferencing and workflow management will be the focus for boosting productivity in 2015. Mobile video calls and video conferencing are among the lowest priorities this year, but when it comes to ranking priorities for mobile devices (ranking just 9th and 10th out of the 11 priorities listed), IT leaders expect them to jump up their list to be the 2nd and 3rd priorities next year. Collaboration apps, 'Enterprise Wide Instant Messaging' and 'Real Time Presence Status' are also expected to remain key priorities, remaining ranked as the 5th and 6th highest priorities respectively in 2014 and 2015.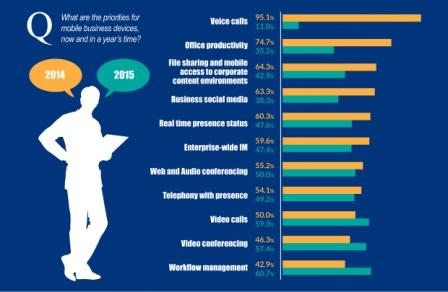 Grig continues, "2015 will be the year when IT leaders want to make more from the unified communications and collaboration tools available for mobile devices – particularly as they seek to integrate mobile and remote workers in their business workflows. Presence, instant messaging, web and video conferencing are all available on mobile devices and given the right connectivity, security and environment, they all have a very valuable role to play. As connectivity continues to improve, with better 4G and Wi-Fi coverage, we expect to see take-up of these services continue apace."
The comprehensive Azzurri report also identified the following trends:
47% of IT leaders expressed that mobile security is a challenge for them.
When it comes to managing their mobile devices and applications, most organisations are not fully in control. Only 42% of organisations use a Mobile Device Management (MDM) tool, although a further 17% plan to do so.
The greatest interest in MDM came from the largest organisations, with 21% of organisations with over 1,000 employees and 26% of those with 201 – 1,000 employees planning to deploy it.
Respondents were asked about the security challenges traditionally associated with MDM services (security, data loss etc.) in addition to those that are not (such as protecting data with VPN and APNs). As this survey has demonstrated, accessing company content and systems is a top priority for businesses, so securing devices alone and providing access to email is only the beginning. MDM, and the security strategy in general, must expand beyond the device.
"Mobile security is no longer just about remote lock and wipe. IT managers want to manage access to applications and information across their mobile fleet – from access to internal line-of-business applications, to intranets, to files and to data – and then what happens to that information once it's on the device." Grig concluded.
To download a full copy of the report, visit Click Here