Guide to a Resilient Contact Centre – How Will Your Virtual Contact Centre Change the Way Your Agents Work?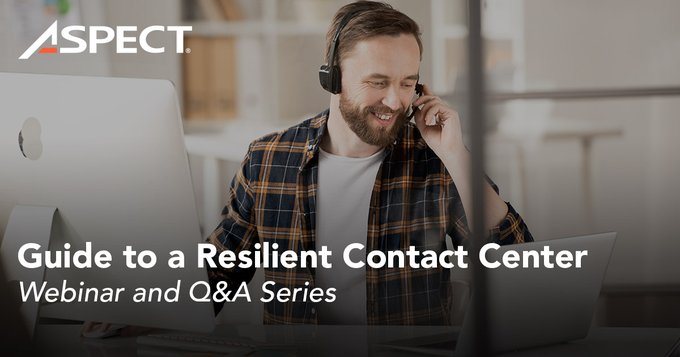 A crisis forcing remote work has proven to be more challenging for contact centres than other information workers.
Now that everyone has a few weeks of experience in this new workflow, how has this impacted your culture, agent performance and overall operations?
Join this webinar to hear Aspect partner, Intradiem, share what customers have learned, how they plan to keep up with agent engagement initiatives, and why the virtual contact centre looks like a good strategic plan for the long term.


Register now for this important session by Clicking Here!
Thursday, May 7, 2020 – 12:00 PM EDT / 9:00 AM PDT / 17:00 BST
Aspect's product and customer care teams are hosting an ongoing series of topic-driven webinars and live Q&A sessions specifically for customers.
Aspect will focus on addressing your immediate concerns and help you align many of the systems and capabilities you already have in place to enable and manage your at-home agent workforce.