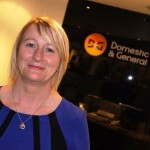 Domestic and General has appointed a new contact centre manager to join its Nottingham team.
Shirley Cuffe, who manages more than 55 contact centre agents and five team leaders as part of her new role, previously spent 11 years at Midlands-based financial services business CPP Group.
Cuffe said: "Domestic & General has a great commitment to developing its people and putting its customers at the heart of everything it does. It's these core values that attracted me to the business.
"I already feel a great sense of pride in being part of a company which works with so many well-known brand names and that through continued high standards of performance, attracts more and more business. It feels like an exciting time to be joining Domestic & General and I am very optimistic about my future here."
Cuffe joins Domestic & General's Talbot Street office, which employs around 1,000 people.