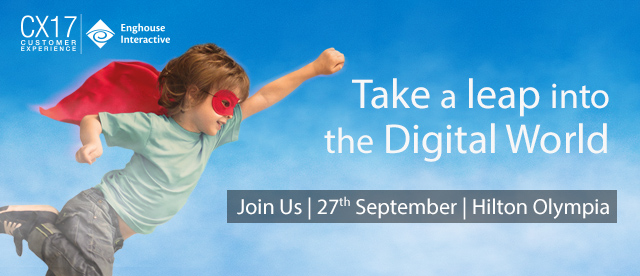 CX17 Enghouse Interactive Hosted Event
Take a Leap into the Digital World
Join the Enghouse Interactive Customer Experience event, CX17 – taking place at the 5 star Hilton Hotel, London Olympia on 27th September.
The theme of this years' event is 'Take a Leap into the Digital World'. Where we will explore how several organisations have taken that leap into the digital world and transitioned their business to the new world where digital channels, self-service, automation and Artificial Intelligence all play a role in supporting a new generation of customer focused staff.
We have a fantastic line up this year, including industry thought leaders, our key partners as well as customers already using our technology.
Our exciting line up of speakers include:
– Clare Muscutt, Head of Customer Experience – Sainsbury's
– Anne Snelson, Head of Marketing – RingGo Parking
– Sally Astbury, Head of Product – Contact Centres – GSK
– Jonty Pearce, Editor – Call Centre Helper
– Dr Nicola Millard, Head of Customer Insight & Futures – BT
– Martin Hill-Wilson, Founder – Brainfood Consulting
You won't want to miss the chance to attend the only event where you can network with other Enghouse customers, alongside industry thought leaders and partners to exchange ideas on how your organisation can cross into the digital world.
Reserve your place now.
I hope you can join us.
Regards
Patricia Merchan
Senior Marketing Manager