Contact Centre Trends: The Current State & 6 Key Forces at Play – Medallia discusses

It's the dawn of a new era. Here are the key contact center trends driving change across organizations.
When we reflect on key contact centre trends at play, it's clear that we are seeing the emergence of a decade of great challenge, but also great opportunity.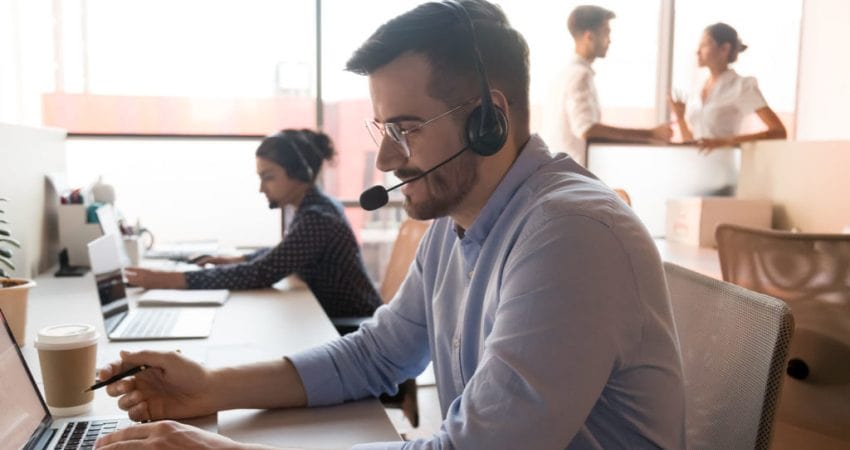 It's been quite some time since we had this much talk about growth in the contact centre. Before the pandemic, many analysts were predicting a steady year-on-year decline in channel importance and talent costs with artificial intelligence taking on more of the simplest engagements.
It's not that anyone got it wrong; it was a perfectly accurate description of the needs of the customer and, therefore, the business at the time. But no one could have predicted that we'd lose the entire face-to-face customer channel for such a long period of time. Very few were truly prepared for the need of everyone within the contact center to work remotely, without any warning or preparation.
Out of that challenge, though, has come innovation.
It's the dawn of a new era for the contact center, one fueled by rapid decision making and agile execution.
For a look at how we got here, let's dive into the six key contact centre trends that have led to our present circumstances and how contact center leaders at the helm of strategic brands are meeting the moment and embracing these opportunities to get ahead.
6 Key Contact Centre Trends You Need to Know About
#1: Rise of digital
The rise of digital within the contact centre is a story that has been ongoing within organizations for the last 20 years. But over the last few years, of course, we've seen huge strides in digital accelerating the de-siloing of the contact center from other departments that impact the overall customer experience, notably digital. If we think back on the traditional contact centre and how siloed it was, it was a channel full of contact centre professionals who didn't always have the opportunity to be connected to the  world outside of the contact center. And the other channels in the organization didn't know a lot about the contact centre.
What we've seen over the last handful of years has been a real move to create more efficiency within the contact center.
And as the role of digital in the customer experience has become a much bigger channel, we have seen the emergence and, the subsequent customer acceptance, of live chat — with live chat ultimately becoming absorbed within the contact center, leading to the evolution of new multiskilled contact center agents. Nowadays, these individuals may jump from managing the phones one day to one day running simultaneous live chat sessions the next. This has ultimately led to a real convergence of skill sets and led to a break from the silos between the contact center and digital.
#2: Drive to self service
Around the same time that we saw the emergence of live chat, over the last five years we've seen customers take the lead on getting the answers and support they need via self service.
Gone is the impulse to call the contact centre first. These days when customers reach out to agents for help, they've typically exhausted many — if not all — other channels. Instead of the first point of contact, today's contact center is now the third or fourth point of contact — it's the escalation channel.
And that's accelerated the need for contact centers to change. No longer are agents fielding simple questions. Customers get those minor issues resolved via self service. Now, individuals in need of help are reaching out after trying to get support or necessary information via any combination of resources, be it a given brand's website, app, help desk and knowledge base content, or social channels. Only once these channels have all failed to provide answers do customers eventually reach out to the contact centre. And when they do, it's, unsurprisingly, to get help with increasingly complex challenges.
#3: Accessibility of data
Just as the rise of digital has helped break down silos between the management of the contact centre and digital channels, it's also helped eliminate barriers when it comes to data sharing across the organization.
One of the most difficult challenges of the traditional contact center has been the lack of data sharing. Over the last five years, we have seen the emergence and acceptance of data lakes and sharing data across channels. This isn't happening everywhere, but it's certainly happening in medium to more mature organizations.
Even if the management of those channels is still siloed, companies have, at the least, been able to desilo their data, enabling them to gain insights, learn, and adapt their strategies all the more efficiently and effectively.
#4: Emergence of omnichannel organisations
Mature organizations are very much working towards becoming omnichannel operations. That is, moving forward with offering the same products at the same price with the same service level across all of their channels. It's this shift to omnichannel adoption that is, inherently, driving a consistency of offerings across channels and helping to eliminate silos as well.
#5: Availability of AI-powered analytics
Customers want to find the shortest path to accomplish their goals, whether that's purchasing an item or getting support for an issue they're experiencing. And shortening that path to conversion or service is what all businesses need to aim for.
In an ideal world, we know that a high proportion of our customers prefer self service — that's why, as mentioned above, live chat has been so readily adopted.
But equally, from a purely financial perspective, we know that all calls handled by the contact center are extremely costly for businesses as well.
That's why it's not simply a nice to have for organizations to be able to understand what's resulting in the highest number of calls and what additional self service resources can be offered to prevent calls. After all, brands need to keep in mind that fielding some level of calls is only to be expected. That's why the goal isn't about eliminating calls altogether, it's about learning how to best manage calls.
And the data available within the contact center is a gold mine of learning opportunities.
So many more efficiencies can be made from within the contact center. There are so many topics that agents can be trained on that could lead to much higher productivity levels. Organizations may even find they might need less agents to manage the same amount of calls.
By leveraging advanced technology, such as text analytics and AI-powered speech insights, brands have the power to reduce spend on frontline agents and improve their NPS®.
That's why it's really critical to take this opportunity to learn from the data sitting within the contact center. Even high-performing organizations benefit from finding ways to achieve marginal gains. In today's highly competitive environment, being able to respond to calls just a little bit quicker and answer customer questions just a little bit better can lead to significant results.
#6: Effects of the COVID-19 pandemic
The global pandemic has left organisations understaffed and struggling to adapt to remote and hybrid work environments. With these circumstances at play, ensuring a transparency of data across the team is more important than ever to fuel the shift to a more agile, more flexible work environment, especially in a contact center environment where there's no reason agents can't work in a fully distributed capacity.
We've also seen organisations get ahead by upskilling their agents to embrace these changes and adapt to new needs in the moment. It's within this climate that a major telecom brand we work with has achieved success by empowering their retail employees to translate their skills to serve as contact centre agents to keep up with growing demand within the contact centre.

Medallia is the pioneer and market leader in Experience Management.
Medallia's award-winning SaaS platform, Medallia Experience Cloud, leads the market in the understanding and management of experience for customers, employees and citizens.
Using Medallia Experience Cloud, customers can reduce churn, turn detractors into promoters and buyers, create in-the-moment cross-sell and up-sell opportunities and drive revenue-impacting business decisions, providing clear and potent returns on investment.
Whether you are looking to empower agents or operational teams, Medallia can help create better experiences for your teams and your customers.
For additional information on Medallia view their Company Profile