The State of Qualit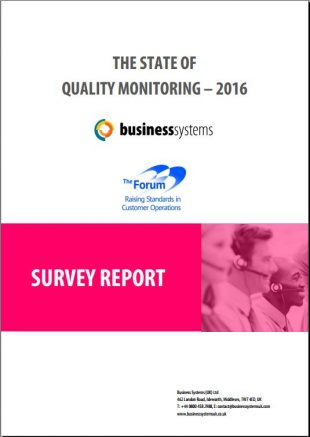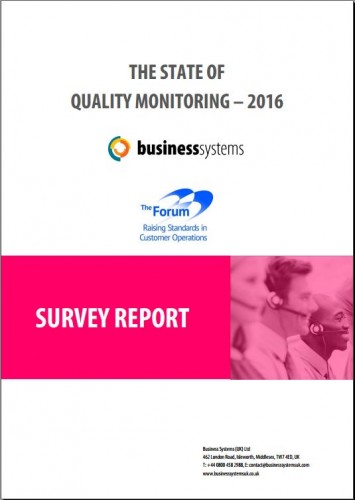 y Monitoring in the Contact Centre – New Survey by Business Systems revels all
Leaders in customer service are well aware that every customer contact can and will impact their bottom line. Whether this impact will be positive or negative will depend on how satisfied their customers are from the level of service they receive. It is for this very basic, yet vital for the survival of a company, reason that call quality is increasingly emphasised and monitored within contact centres.
The Survey
Last year, Business System's survey titled 'How are Contact Centres Using Quality Monitoring?' showed that although 92% of contact centres evaluate agent calls on a standard basis, only 30% have a Quality Monitoring software in place, and just 25% have a dedicated Quality Monitoring team.
This year, we have teamed up with The Forum and Chris Rainsforth, Senior Customer Contact Specialist, to find out more about how Contact Centres in the UK are using Quality Monitoring in 2016 and whether it is gaining momentum as an integral part of the contact centres' strategy.
---
Additional Information
To Download the Business Systems Survey Click Here

Business Systems (UK) Ltd specialises in providing call recording and workforce optimisation solutions and today ranks as one of the most experienced independent providers with expertise covering systems design, project management, implementation and ongoing service delivery and support.
What we do
Business Systems is the UK's largest and most established independent call recording specialist. Founded in 1988 to service the City's financial institutions the company has built an impressive reputation for implementing complex projects on time and counts amongst its clients, institutions such as The Bank of England and Standard Life.
With contact centres demanding increased sophistication in their voice and data applications, Business Systems has since established itself as a leading systems integrator and workforce optimisation specialist for organisations such as Capita Customer Management and Experian.