South West Contact Centre Awards Recognise Excellence
The South West's top contact centres were awarded recently at a ceremony hosted by comedian Stephen K. Amos.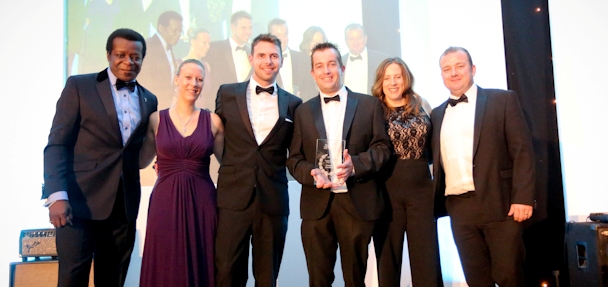 Over 350 guests attended the prestigious annual South West Contact Centre Awards which saw organisations and individuals recognised for their outstanding contribution to a vibrant sector which employs more than 50,000 people in over 250 contact centres in towns and cities across the South West.
Organised by the South West Contact Centre Forum, the eighth annual awards celebrated individuals and companies for their contribution to the South West contact centre industry over the last twelve months.
The event rewarded winners and highly commended entrants in 19 categories, with LV=Bristol's centre scooping the top award for Large In house Contact Centre of the Year and Swindon's Carpeo picking up the award for Large Outsourced Contact Centre of the Year.
A range of other awards were presented including Contact Centre Manager of the Year with Under 100 Personnel which went to Becky Francis, Jaywing and Manager of the Year with Over 100 Personnel which went to Kristi-Anne Constable of OVO Energy
Alyson Hanley of Europa Group won Support Manager of the Year, while LV Exeter's Emily Coles and Motability Operations' Fran Williams shared the award for Team Leader of the Year.
Newcomer of the Year was presented to Hayley Russell, AXA Self Investor while Brightside's Emily Robson picked up a Highly Commended certificate.
RAC saw two of their finalists awarded, Deborah Taylor for Sales Agent of the Year and  Rob Stead for Trainer of the Year while Caroline Vaughan, DAS Legal Expenses shared the award for Customer Service Representative of the Year with Amber Jackson, Screwfix.
In the company categories, Imperial Tobacco were awarded for their Customer Engagement and Motability Operations took home the trophy for Support Team of the Year.
Bristol City Council was recognised as the winner the best Business Improvement Strategy, with Screwfix highly commended in the fiercely contested category, while Echo Managed Services picked up the award for Small/Medium Outsourced Contact Centre of the Year.
Sandra Busby, director of the South West Contact Centre Forum, said:
"The contact centre industry has grown to become one of the South West's major employers.It's vitally important to recognise the valuable contribution this industry makes throughout the South West and the Forum is delighted to recognise the excellent work that goes into contact centres across the region. We would like to congratulate all our finalists and winners for their excellent performance."
The awards were held in association with headline sponsors Red Contact Centres plus ISV Software, Premier CX, InspireMe, Weston College, Rocom, Carpeo and Invest Bristol Bath.
List of  the Winners and Highly Commended
Apprentice of the Year
Winner – Lauren Meacock, Aster Group
Newcomer of the Year
Highly Commended – Emily Robson, Brightside
Winner – Hayley Russell, AXA Self Investor
Support Person of the Year
Winner – Sam Webster, Xerox
Customer Service Representative of the Year
Joint Winners – Caroline Vaughan, DAS Legal Expenses & Amber Jackson, Screwfix
Sales Agent of the Year
Winner – Deborah Taylor, RAC
Team Leader of the Year
Highly Commended – Hayley Davies, Sovereign Housing Association
Joint Winners – Emily Coles LV= & Fran Williams, Motability Operations
Trainer of the Year
Winner – Rob Stead, RAC
Support Manager of the Year
Winner – Alyson Hanley, Europa
Contact Centre Manager of the Year (2 awards given)
With Under 100 Personnel
Becky Francis, Jaywing
Contact Centre Manager of the Year
With Over 100 Personnel
Kristi-Anne Constable, OVO Energy
Hero of the Year
Highly Commended – Roxanne Blake, Capita Life & Pensions
Winner – Jack Brundell, Brittany Ferries
Best Use of Technology
Winner – NCC CRiS
People Engagement
Winner – Southwest One
Customer Engagement
Winner – Imperial Tobacco
Support Team of the Year
Winner – Motability Operations
Best Community Initiative
Winner – EDF Energy
Business Improvement Strategy
Highly Commended – Screwfix
Winner – Bristol City Council
Performance & Quality
Winner – LV=
Contact Centre of the Year
Small – Mira Showers
Medium – Southwest One
Large – LV= (Bristol)
Outsourced Contact Centre of the Year
Small/Medium– Echo Managed Services
Large – Carpeo
[print_gllr id=20163 display=short]
---
Additional Information
For additional information on the South West Contact Centre Forum visit their Website