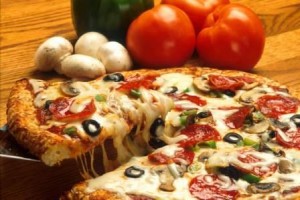 Papa John, one of the world's largest pizza chains, is inviting all of its customers to Rant and Rave about their customer experience, in a new move set to cement their position as the nation's favourite pizza brand.
The new initiative, which will roll out across the UK today, will invite customers to share their thoughts on their pizza at the point of delivery via text message. Recipients will be able to score their overall experience, as well as provide details in their own words about what they're Ranting & Raving about. All Papa John's pizza boxes will boast a call to action, inviting customers to share their thoughts via QR code, or by texting Papa to 66099.
Customers who visit the Papa John's website will also be able to share their thoughts online via a newly deployed feedback 'widget' – allowing the brand to capture feedback even from the customers who may choose not to buy.
Papa John's, which operates on a franchise model in the UK, has joined forces with Rant & Rave and its award-winning customer engagement technology as part of the company's commitment to not only listen to the voice of its customers, but more importantly, to act upon it.
After a successful trial period where eight stores across London and the South East used the service, Papa John's is now implementing the technology in all of its 248 stores.
All feedback is analysed in real-time using Rant & Rave's fast feedback technology and results are presented back to individual franchisees and Papa John's head office. This gives managers the chance to respond to any negative comments, or Rants, and also celebrate their team's Rave reviews and recognise their hard working staff.
Andrew Gallagher, Senior Director of Marketing at Papa John's says:
"We've been really impressed by the results we've had so far; with a brilliant response rate showing that our customers are ready and willing to share their thoughts. We're also thrilled that the vast majority of our feedback has been Raves – which helps us understand what our customers love about us. Of course we're also learning where we get things wrong too. A peak in comments about delayed deliveries is a good indicator of where we may need to address staffing levels, just in the same way an increase in negative comments following a change to our menu could lead us to rethink our decision.
"Only by finding out where we're going right and wrong can we develop as a company. While Rant & Rave helps us respond to customer issues in the moment it also gives us the wider picture so we can track customer sentiment over time. Of course, it's going to differ from region to region but I'm confident that by learning from our Rants and listening to our Raves we're undoubtedly going to retain and grow our already loyal customer base."

Dennis Fois, CEO of Rant & Rave says:
"We're delighted to welcome Papa John's to the Rant & Rave family. Like all of our clients Papa John's are truly customer centric – they recognise that by engaging their customers and responding to their feedback they'll be able to develop lasting relationships.
"Mobile really is the best way to capture feedback in the moment – they're never far away from us and let customers share their honest views with minimal effort. But capturing feedback isn't all about pacifying Ranters, it's just as important to celebrate the Ravers. We're particularly excited about how the Rant & Rave platform can be used to complement Papa John's already successful loyalty scheme, Papa Rewards"