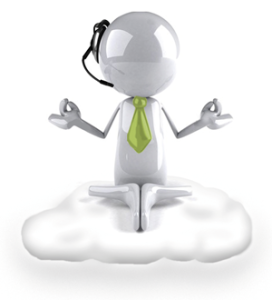 Leveraging the cloud for application and data services has become almost commonplace for most companies and consumers these days.
Most of us can quickly rattle off the many benefits of the cloud, such as improved flexibility, faster deployment, reduction in required IT resources, and minimal upfront costs. While more and more companies are considering moving to a cloud-based model, we still hear a few concerns from current on-premises contact centre users. But fear not – there is an alternative that can allow you to keep your critical infrastructure and protected data in place on-premises, while leveraging the power of the cloud for interaction management – it's called the hybrid cloud.
A hybrid cloud model provides a bridge from your current infrastructure to the cloud. It allows your contact center to take advantage of cloud-based application deployment and data, while retaining certain telephony infrastructure on-site. If you considering a move to the cloud, below are 3 reasons to embrace a hybrid cloud contact centre model today:
1. Utilize all of your existing assets – including your PBX and carrier service agreements, and allows you migrate to the cloud at your own pace. This can also involve moving your existing ACD to a virtual multi-channel contact center in the cloud. You can retain full control of your voice network by delivering calls to your physical site as you do currently.
2. Comply with legal requirements – keep media and telephone recording data stored within country borders. Both call recording and local media remain stored on-site, thanks to virtual on-premises appliances.
3. Establish secure data connections – safely link the cloud and on-premises solutions so that no voice traffic flows across the connection. Your on-site agents use standard SIP endpoints with hard SIP phones or soft phones running on their desktops. Agents can also work virtually, off-premises – reducing labor costs and alleviating resource issues.
Overall, you will find that moving to a hybrid cloud model, available in the Genesys Business Edition, provides your contact center with all of the benefits expected from the cloud, while addressing specific issues associated with the migration of physical telephony services and sensitive data.
Learn more about connecting cloud services with your existing contact centre infrastructure in this useful datasheet or contact us today if you'd like to learn more!
---
Additional Information
Ron Stevenson has been in the software industry for over 20 years building and marketing products for cloud, social, web services, ecommerce and database management. Serving in various roles within both startup ventures and large enterprises such as Salesforce.com and Microsoft Corporation, Ron has led product management, international business development, competitive strategy, and software development teams. At Genesys, Ron serves as Sr. Manager of Product Marketing, focusing on mobile CX and engagement.
For additional Information see Genesys' Company Profile