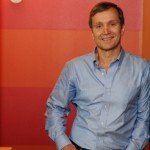 Dr. Donald E. Brown says cloud is poised to significantly re-shape the customer experience
Global growth consulting firm Frost & Sullivan has interviewed Interactive Intelligence Group Inc. Founder and CEO Dr. Donald E. Brown about his vision for cloud communications technology.
The Frost & Sullivan Movers & Shakers video highlights Dr. Brown's views on what's driving cloud communications technology and how it will shape the future of customer service.
"People's modes for social interaction are very different today, which has changed their customer service expectations," Dr. Brown said. "The cloud is playing a vital role in this change because it enables companies to more easily offer customers new communications options, such as Web chat, text messaging, and video. Combined with the benefit of offloading IT staff from the daily grind of things like server updates so they can focus on projects that directly impact the customer experience, the cloud is by far the most impactful technology trend today."
The Movers & Shakers video includes commentary from Frost & Sullivan Principal Analyst Nancy Jamison, who elaborates on the importance of the cloud to multichannel communications.
In the video, Dr. Brown also shares how the cloud will provide access to an increasing amount of intelligent and predictive information, which companies can use to further enhance their customers' experience. "In our industry, if you're not bold you're obsolete," he said. "Intuitive new tools will enable companies to create a customer service experience that today they can only dream of."
For additional information see Interactive Intelligence's Website or view their Company Profile