How does your contact centre compare?
Need to ring your energy provider? Then be prepared to wait, as it's more likely to answer the phone quickly if you're a sales call, a Which? investigation has discovered.
Which? made 384 calls to 16 different energy suppliers' customer service and sales numbers at set times of the day in April 2014, and each time recorded how long it took to get through to a human being.
They found that 11 out of the 16 suppliers answered sales calls faster than customer service calls, and existing customers were left to wait up to 13 times longer than those enquiring about joining as a new customer with Npower and Scottish Power were among the worst.
The graphic below shows the average call wait times for both customer service and sales, for each of the 16 suppliers we called. 11 out of the 16 energy suppliers answered sales calls faster than customer service calls.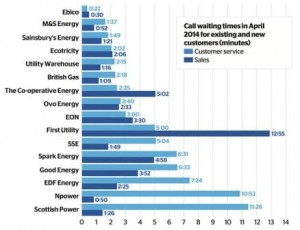 Which asked the energy suppliers to explain themselves.
Despite its poor results, Scottish Power stated: 'We are always making improvements.'
This is the third time we have investigated how long energy firms leave their existing customers waiting. In April 2013 Npower told us that its 17 minute waiting time was due to an abnormality; in October 2013 it told us its 19 minute waiting time was because of high call volumes following reports of price increases, and this time it stated that its 11 minute waiting time was because it had just begun writing to all of its customers asking them to contact Npower to discuss the best tariff for their needs.
The supplier with the longest waiting time for its sales number was First Utility. It told us: 'We have prioritised our existing customers at a time when there is a huge demand from new customers for our low-priced tariffs.'
Once again, Ebico had the fastest call response times. Customers appreciated being put straight through to a human rather than going through an automated voice system. Ebico stated that it is 'delighted to be No.1 again'.
When comparing average call waiting times for customer services in April 2013 and 2014, the average wait time had increased from 3 minutes 53 seconds, to 4 minutes 27 seconds. Indeed, nine of the 16 suppliers had longer average customer service waiting times than the previous year. Scottish Power, EDF and Good Energy all registered waiting times over five minutes longer than in April last year.