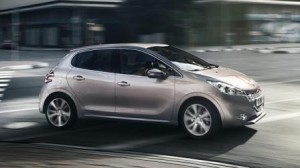 Paul Campbell from Greenock, who works for customer experience management company, Webhelp UK, is the lucky recipient of a brand new Peugeot 208.
The new car, worth almost £11,000, was raffled on Christmas Eve following the company's two month Christmas Bonanza held for its teams across the UK.
Webhelp UK raffled an array of prizes across its sites during the festive season. The Christmas bonanza offers the company an opportunity to reward the dedication of its hardworking people. Team members from across the company had their fingers crossed they would win the much sought after prize after the launch of the Christmas Bonanza in November.
In November, 15 team members across the UK won gift vouchers, Plasma TVs and iPad Minis. On Christmas Eve, the grand prize winner and winners of the December Big Draw were announced. Alongside the car, prizes including £1000 worth of holiday vouchers, a 3D TV and further gift vouchers.
John McCrudden from Webhelp's site in Larbert took home the 3D TV and Adam Mangnall in Derby was the lucky winner of £1000 worth of holiday vouchers.
Commenting on the win, Paul Campbell said: "This is just an amazing Christmas present. I'm shell shocked. It's going to help our family life so much! The whole Greenock team were talking for weeks about who might win the car – I couldn't believe my luck when I heard my name. This has been a really great Christmas. Thanks to everyone at Webhelp UK."
Anton Manley, Director of Strategic Accounts at Webhelp UK, commented: "Paul is such a deserved winner. He is dedicated to his role and is a credit to Webhelp UK. It's fantastic to be able to recognise him in this way."
Adam Mangnall commented on his win: "I couldn't believe it when I found out I had won the holiday vouchers, I've already been looking online at possible destinations. The Christmas bonanza has been great fun, it's really brought the whole team together over the festive season."
Six team members were also rewarded with £150 gift voucher each in recognition of their hard work over the festive season. The shining stars were:
• John McKeown – Falkirk
• James McEleny – Greenock
• Cindy Hudson – Derby
• Holly Reilly – Derby
• Stuart Walker – Glasgow
• Adam Taylor – Warrington
To add to the festive fun, a real-time quiz was also conducted, with one member from each site participating and the winner, Craig McManus from the Webhelp UK Larbert site, was awarded an additional three days annual leave in 2014.
For additional information see Webhelp UK's Company Profile