Webhelp Announce Winner of Christmas Card Competition – A pupil from St Bernadette's primary school in Larbert has won a Christmas card design competition set by Falkirk-based business, Webhelp UK.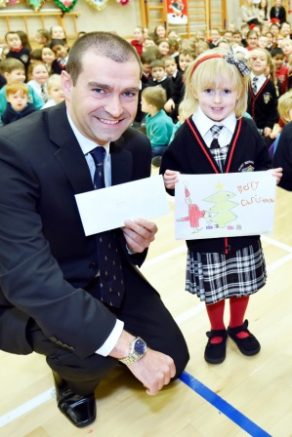 Five-year-old Juliet Donaldson's winning entry was picked by the judges for its creative flair and festive cheer. To reward the budding artist, Anton Manley, managing director of UK client operations at Webhelp UK visited St Bernadette's, on Friday 11 December, to present Juliet with a £50 voucher and a further £500 donation for the school.
Webhelp UK teamed up with primary schools in the Larbert area in an effort to involve the local community in its Christmas plans. The business challenged pupils to submit a design for its official 2015 Christmas card.
Runner up entries came from Tom Green, a primary five pupil at St Bernadette's and Zac Ross, a primary three pupil at Larbert Village primary school – both receiving a £20 prize.
After visiting the school Anton Manley, said: "We would like to thank the schools that took part for all the fantastic designs that were put forward.
"The competition was a great way for us to showcase the talent of our young people in the local community. The quality and detail of all of the entries was incredible, we appear to have some very talented artists in our midst.
"We're now looking forward to distributing the cards which are guaranteed to raise smiles this Christmas."
Marianne Savage, head teacher at St Bernadette's primary school, said: "The children have really enjoyed taking part in this competition. It's great for the school to be involved in community projects as it allows the children to build new experiences and be creative at the same time.
"Juliet and Tom are over the moon and all their classmates have been so supportive – cheering them on when their names were announced at our morning assembly."
---
Additional Information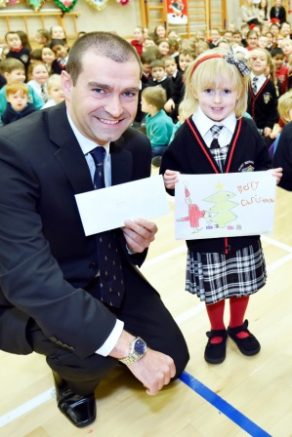 Photograph Caption: Anton Manley, Managing director of UK client operations at Webhelp UK presenting Juliet Donaldson with a £50 voucher and a further £500 donation for the school.
To view all three finalists artwork Click Here
For additional information on Webhelp UK visit their Website or view their Company Profile