Vodafone UK and Webhelp celebrate £1m refurbishment of Kilmarnock contact centre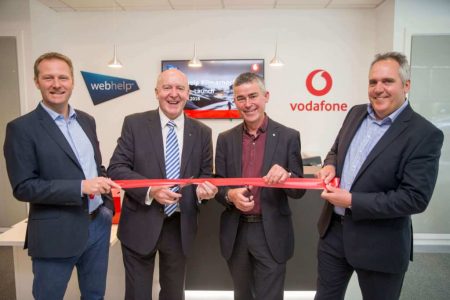 Vodafone UK and customer experience company, Webhelp, celebrated a £1 million investment in expanding and improving Webhelp's Kilmarnock contact centre site. This is part of Vodafone's commitment to investing in customer service, a commitment which has seen 270 new employees join the Kilmarnock centre in the last year.
To mark this occasion, Neil Blagden, Vodafone UK's Chief Operating Officer and Craig Gibson, Chief Commercial Officer at Webhelp UK were joined last Friday (13 July 2018) by Alan Brown, MP for Kilmarnock and Loudoun and Willie Coffey, MSP for Kilmarnock and Irvine Valley.
The Kilmarnock centre is operated by Webhelp, but for the sole use of Vodafone to serve both its consumer and small business customers. As part of the investment, the digitally connected workplace has undergone a major refurbishment as well as increased investment in training and development.
Alan Brown, MP for Kilmarnock and Loudoun (Pictured 2nd Right) said:
"It is great news to hear of the £1m investment in the facility operated by Webhelp for Vodafone UK. The 270 new jobs to date is fantastic news and I look forward to the ongoing expansion of the Kilmarnock workforce. The five-year contract announcement between the companies is testament to the quality of work undertaken to date and hopefully also provides job security for employees. The additional training and development for staff is also to be welcomed."
Willie Coffey, MSP for Kilmarnock and the Irvine Valley (Pictured 2nd Left) said;
"I am delighted to join in the celebration of this new £1m investment in Webhelp's Kilmarnock Contact Centre. This is a welcome boost to the local economy and will significantly increase the number of jobs and training opportunities in the area. Rowallan Business Park is an ideal location for inward investment and Vodafone UK and Webhelp have been quick to acknowledge the growth potential afforded by the site and proximity to a skilled and adaptable workforce capable of meeting the requirements of their expanding operations."
The announcement forms part of a new five-year contract between Vodafone UK and Webhelp. The partnership covers 2,400 UK-based roles, exclusive to Vodafone, including 700 in Scotland with others at sites in Cardiff, Sheffield and Dearne Valley (Yorkshire).
In March 2017, Vodafone UK announced a UK-wide programme to invest in approximately 2,000 new roles over two to three years. Vodafone has confirmed those positions have been filled ahead of schedule with more to be added during 2018.
Neil Blagden, Vodafone UK Chief Operating Officer, (Pictured 1st Left) said:
"We are delighted to announce this investment in Kilmarnock. It reinforces our commitment to providing excellent customer service, which has seen us recruiting many hundreds of new UK customer service roles over the last year alone."
David Turner, CEO at Webhelp UK said "This contract demonstrates Vodafone and Webhelp's shared commitment to delivering exceptional, market-leading customer experience. Vodafone was one of our first clients in the UK. Over 18 years we've created a deep strategic partnership focused on investing in the people, technology and environments that help us exceed customer expectations. The new contract is fantastic news for Vodafone customers, our UK-based employees and for Kilmarnock. We're able to offer local people rewarding and flexible career opportunities that will appeal to a diverse range of life stages and lifestyles."
---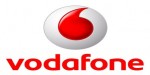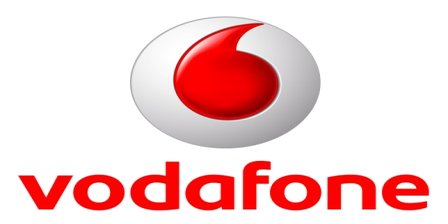 Additional Information
For more information on roles available at the Vodafone contact centre Click Here