TTEC Hiring Over 3,500 Remote Contact Centre Agents in the United Kingdom
TTEC expanding its award-winning remote workforce programme to the UK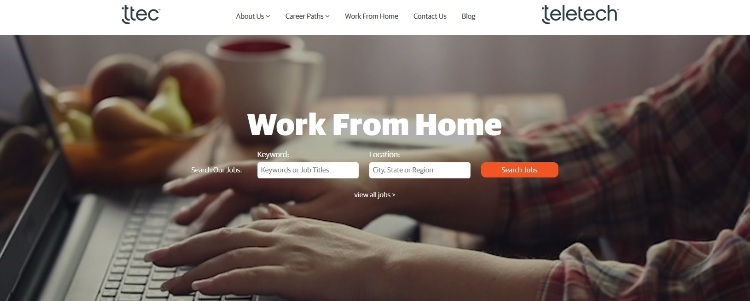 TTEC Holdings, a leading digital global customer experience technology and services company focused on the design, implementation and delivery of transformative solutions for many of the world's most iconic and disruptive brands, today announced that it is hiring over 3,500 contact centre employees including agents, team leaders and operations managers for its work-from-home programme in the United Kingdom.
The need for work-from-home customer support options accelerated significantly with the Coronavirus outbreak. With a strong work-from-home foundation already in place around the globe, TTEC enables seamless transition from contact centres to agents' homes whilst maintaining the quality management, best-in-class operational processes and security of brick-and-mortar operations. The company's at-home model also distributes client workforces to appropriate geographies and equips its remote workforce with secure tools and technology.
TTEC uses proprietary technology to remotely support and assist customers with a variety of service and technical needs across channels including chat, messaging, email, social and voice. The work-from-home solution combines the same quality management, security and operational excellence of TTEC's onsite customer engagement centre with the flexibility and cost-structure of a variable business model for clients. This enables TTEC to partner with clients to quickly scale CX programmes as they grow or expand to meet work-from-home demands.
Employees enjoy the following:
– Opportunity to support a global company
– Competitive pay
– Potential career advancement
– Employee rewards and bonuses
– Flexible hours
– Interactive work environment

To view TTEC's work-from-home UK job opportunities, please search for "United Kingdom" in the location Click Here
TTEC Holdings, Inc. is a leading digital global customer experience (CX) technology and services company focused on the design, implementation and delivery of transformative customer experience, engagement and growth solutions. The Company's TTEC Digital business provides insight-driven, outcome-based and AI-enabled omnichannel cloud platforms and CX consulting solutions and its TTEC Engage business delivers operational excellence through customer care, acquisition, retention, fraud prevention and detection, and content moderation services.
Founded in 1982, the Company's 49,500 employees operate on six continents across the globe and live by a set of customer-focused values that guide relationships with clients, their customers and each other.
For additional information on TTEC view their Company Profile