Storm Cloud Call Import : Importing Calls from the Cloud to Premise Based Recording Infrastructure
Storm Cloud Call Import is a new feature on Storacall Call Recording systems providing the ability to import call recordings from Cloud based call recording platforms into an organisations premise based recording infrastructure.
Record on Demand
Whether an organisation is required to store all voice and data recordings on premise for a set retention period, is required to keep calls centrally for compliance purposes or simply needs a convenient way to quickly retrieve and access recordings captured across an entire organisation then Storm Cloud Call Import is ideal for the business.
Storm Cloud Call Import offers users with the ability to import many channels of mixed recordings from multiple locations to just one central site which can then be accessed by administrators, reviewers and agents.
Access to these calls are all controlled by a strict set of password policies and a full audit trail is available to see who has been listening to your calls. Users can incorporate fixed line phones, mobiles, trading devices, command and control systems and radios into one central call recording system.
Storm Cloud Call Import collects the cloud based recordings as .WAV files, once collected the Storacall system duly encrypts these recordings providing a secure, reliable and adaptable solution.
---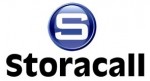 Additional Information
For additional information on Storm Cloud telephone Storacall on 44(0)1932 710710
Alternatively visit their Website or view their Company Profile