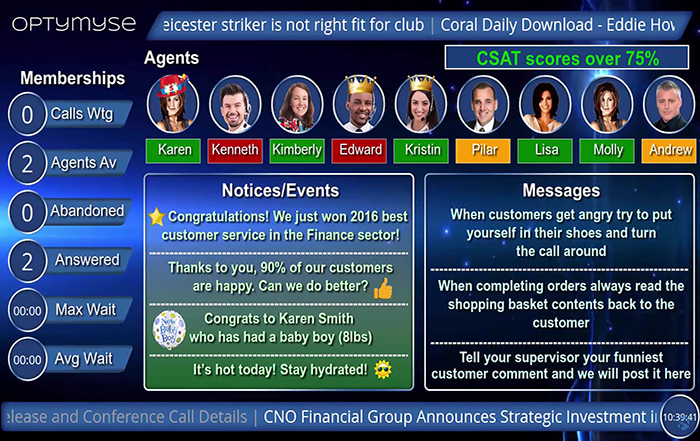 Is to ensure the content is useful to their Agents. After all, it's them that spend the day looking at it…
How many times a day do your agents look at the call metrics displayed on the TV screens around your Contact Centre?
If it's a LOT you might have a problem. If it's a little, you really have a problem.
Yeah, confusing – here's what we mean;
If your agents are looking at your Wallboard screens for the information they need to deliver positive customer experiences but instead they only get call metrics in the same format year in year out chances are that familiarity eventually creates a 'blind spot'.
Your Agents get bored, fed up and disengaged so they rarely glance at the screens, then carry on with the shift… and the truth is, it's a BIG lost opportunity for you.
Because while you have their attention, you could be focusing your agents on company updates, training, shift patterns, overtime opportunities as well as the fun stuff like birthdays, anniversaries, positive feedback from customers and of course gamification.
In fact, if your wallboards are just giving the basics, you're really missing a trick, because done right wallboards are a frontline solution to your biggest challenge with staffing.
New wallboard technologies are available right now to help you re-engage your team and keep them motivated, connected and 'happy in their job'.
---
Additional Information
For additional information on SJS Optymyse visit their Website