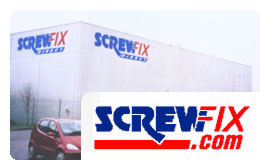 Screwfix has pledged its support for the BBC's well loved Children in Need appeal once again, and will be donating the services of its whole contact centre and contact team for the eighth year running.
Screwfix employees from all areas of the business will be donning cartoon themed fancy dress on Friday 15 November from 6.30pm until 12.30am.
They have generously offered to donate their Friday night to take pounds and pledges for the popular charity from residents across the UK, as well as those in the south west. Store staff from all over the country will be joining the contact centre team and helping to man the phones from the company's award winning contact centre.
John Mewett, marketing director at Screwfix, comments: "We are delighted to be able to offer our support for Children in Need once again. Last year, we took thousands of calls and pledges from across the UK, which gives a great insight into how generous people are when it comes to supporting Children in Need. We are confident that we can help to exceed last year's total during this year's fundraising drive, and I'd like to thank those staff members who are travelling from as far as Northampton to help.
"The whole business is really behind the cause, and in addition to giving up their Friday night, our team has a host of other exiting fundraising activities planned to help contribute even further to the grand total. We look forward to the big event and are really pleased to be offering our support again."
---
Additional Information
For additional information visit the Screwfix Website