London contact centre staffed by trained actors expands into MediaCityUK, Manchester.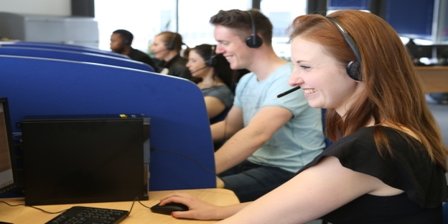 RSVP (Media Response) Limited, a contact centre staffed completely by actors, is looking to gain a foothold in the Northern Powerhouse with a new office at the Digital World Centre, 1 Lowry Plaza.
Launching today, October 27th, the company has added to its existing 370-seat base in London's docklands with an additional initial staff base of 50 agents in Manchester.
The firm expects this number to grow to 150 over the next 12 months.
RSVP's Managing Director, Mark Abernethy, said: "MediaCityUK is such a great place for us to be situated in the North.
"It's a vibrant and creative environment and it suits us perfectly to be so close to The Lowry Theatre, BBC North, ITV Studios and the Coronation Street set."
He continued: "It will be great to have so many casting directors close by and they in turn will have easy access to a pool of actors, should they need to fill last minute castings.
"This is the perfect location for our actor agents, and also for our business growth."
The company's client services director, Hiten Patel, commented:
"The opening of RSVP Manchester is a very exciting venture. We are thrilled to be branching out to the north, it's such a fast-growing market, with strong manufacturing, entertainment, digital media, science, technology and service sectors.
"We are looking forward to settling into MediaCityUK and becoming a part of this inspiring and energetic community."
---
Additional Information
Founded 28 years ago, RSVP has forecast its turnover to hit £14m in 2016 and £15.5m in 2017.
The company supports actors by offering them steady works as agents on the phones. Training and experience on stage, screen and radio, according to RSVP, enables employees to build a unique rapport with callers.
In return, RSVP's agents are offered flexible working hours that allow them to take time off for auditions or record self-tapes on site. Staff are also allowed to leave at short notice for acting opportunities.
For additional information on RSVP visit their Website (Outsource)
For additional information on RSVP  visit their Website (Actors)