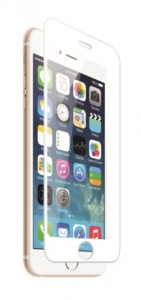 Rocom is talking tough by urging businesses to 'keep it clean' after adding a unique screen protection shield for mobiles and tablets to its comprehensive product portfolio.
Rocom has teamed-up with manufacturer BioArmor to offer a high impact glass shield for various devices (including Apple and Samsung) – complete with an exclusive antibacterial agent that kills 99.99% of harmful germs.
Rocom Purchasing Director, Andy Winfield, says the impact resistant solution is liquid repellent and features a premium fit bubble free application.
"It's well known that many mobile phones and tablets are teaming with bacteria and often contain more germs than the average toilet seat, according to research. Devices hardly ever get cleaned but the majority of users are oblivious to the health dangers they are exposing themselves to. BioArmor is the answer," he explained.
"It's scratch resistant, repels oils and liquids, is super touch sensitive and benefits from anti fingerprint properties."
The device is available in various options including Tempered and Gorilla glass, combined with black, white and non coloured border versions. The latest iPhone 6 shield has an RRP of £29.99.
For addtional information see the Rocom Website