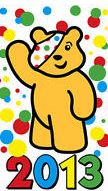 Staff at the npower call centre in Burton have been busy preparing for BBC Children in Need, which will be returning to our screens today (Friday 15th November), following a special guest appearance from Pudsey Bear.
The much-loved bear visited the team of volunteers ahead of the Appeal Night Show to help get them geared up for what is expected to be another successful year of fundraising for the Charity.
Over 100 npower employees have volunteered their time to man 90 dedicated phone lines, taking donations throughout the entire live BBC broadcast. This is the third year running the team at Burton has been selected as the BBC Children in Need's regional call centre for the West Midlands, having taken more than 3,211 calls and £106,949 in donations in 2012 and contributing to the overall total of £26.7 million raised on the night.
After last year's success, npower is keen to keep the momentum running and encourage even more donations for the charity. And with the additional support from Pudsey, volunteers are eager to kick-start the fundraising with staff taking donations from 6.30pm on Friday until 2.00am Saturday.
Diane Hargreaves, contact centre manager for npower in Burton comments: "It's a great privilege to be representing BBC Children in Need for the third year running. It's such a fantastic evening that we have many new and returning volunteers keen to be involved, with some even working a normal 9-5 day before hitting the phone lines.
"Our team were also thrilled to have Pudsey visit ahead of the big Appeal Night Show. This definitely got everyone into the fundraising spirit and we're confident we'll raise even more this year as a result.
"As always, we're expecting a very busy evening and our volunteers will be ready and waiting to take your calls. And to keep our energy levels up, we will also be donning fancy dress, with the theme being 'pyjamas' for this year, which is in tune with the Charity's fundraising theme, as well as taking part in various other activities and games to raise money."
The npower team has been building up to BBC Children in Need with a range of fundraising activities including dress down days, raffles and quizzes.
BBC Children in Need provide grants to 2,700 projects that make a positive difference to the lives of disadvantaged children and young people across all of the UK. Its vision is that every child in the UK has a childhood which is safe, secure and happy and allows them the chance to reach their potential.
This year's Appeal Night Show promises to be bigger and better than ever and every penny raised or donated through call centres like npower's will go towards helping disadvantaged children and young people right here in the UK.