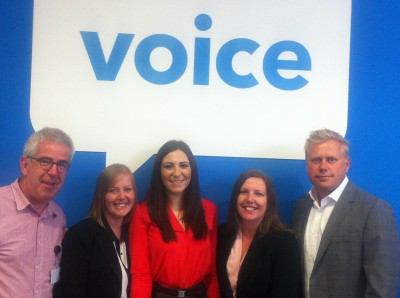 Voice has appointed five key new appointments as it continues its programme of rapid growth investment.
Philip Shuldham-Legh has been driving strategic development, Lisa Paul and Leanne Stones building key relationships in the Client Services department, Abbigale Wallis leading the communications department and William Lewis heading I.T.
Philip Suldham-Legh is an experienced board level Director with a proven track record in sales and marketing. He has a background in contact centres and direct marketing in organisations such as SITEL, WWAV Rapp Collins, The Listening Company and Business Development Director at Serco. In his role as Strategy Director, Phillip is developing the Voice brand, proposition and position in the market.
Lisa Paul is an expert contact centre professional working in client facing roles in the outsourcing industry for over 20 years. Managing the strategic direction of client relationships for many of the UK's largest blue chip businesses she has delivered organic growth and account development ensuring that Client KPI's and objectives are not only delivered but exceeded. In her new role at Voice, Lisa is building a team of experienced Client Services Managers to support and develop relationships within the existing client base.
Leanne Stones is an experienced Senior Client Services Manager in outsourcing business with extensive experience of managing the day to day relationships with key clients focussing on multi-channel contact centre solutions, including inbound and outbound telephony as well as web chat, SMS and email handling.
Abbigale Wallis has a background of experience in marketing and communications roles. She moved from her role in the internal communications department at Balfour Beatty Services and has been developing employee engagement, brand identity alongside managing digital communications at Voice.
William Lewis has headed the technical operations in major contact centres including Serco, working with brands such as Sky, Selfridges, Vodafone and built the 118 118 operational service from scratch. He is combining his experience to build and drive the operational systems and the platform for customers to communicate over multichannel services.
James Hinchliffe, CEO, Voice said: "With our two sites in Woodseats and Broomhill now a firmly established and recognised part of the Sheffield City Region business community, it gives me great pleasure to announce these important new appointments.
"These experienced contact centre professionals will help to take Voice to the next level by developing and enhancing our national and international reputation as a major force in multichannel sales delivery.
"We already have more than 550 employees but we are confident that Voice will be continuing to grow even further over the coming months and have therefore invested in an additional 200 seat capacity."