Aspect Software's cloud-optimised Unified IP 7.3 offers new compliance features, greater TCO
• New compliance features for proactive outreach to mobile devices assists customers with meeting TCPA requirements without sacrificing productivity
• Cloud-optimised with flexible deployment options that fit customers' changing business needs
• Greater integration with Aspect Social, Lithium Social Web Analytics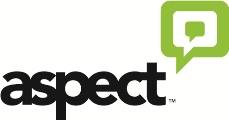 Aspect Software have announced the launch of Aspect® Unified IP® 7.3, a feature-rich customer contact solution that simplifies and flexibly manages omni-channel interactions. Codenamed Mako Shark, Unified IP (UIP) 7.3 improves upon its predecessor by offering greater cloud-optimised deployment options, new proactive outreach compliance capabilities and tighter integration with Aspect's social media interaction solution, ultimately providing a lower total cost of ownership (TCO) than previous iterations.
"In today's digital age, where consumers control the customer-company relationship, predictive and proactive care is a necessity for delivering exceptional and differentiated customer experiences. Because of this, optimal control over customer contact strategies and agile operations to address changing business requirements is essential," says Chris Koziol, President and General Manager of Interaction Management at Aspect.
"UIP 7.3 provides just that by anticipating customer needs and contact strategies, engaging customers more efficiently and effectively through multiple channels and choices, and simplifying operations and drive return on investment."
UIP 7.3 offers new compliance capabilities for outbound outreach to address the increasing consumer use of mobile devices and the impact of new call rulings from the FCC and FTC. A new feature called Agent Initiated Contact leverages the routing and tracking capability of Aspect Unified IP, but removes the capabilities that previously could have triggered TCPA "autodial/auto-message capacity" criteria, depending on how the system was used. This means the system can be used in a way to accurately determine when the auto dialler capability can be deployed and when call attempts should be agent initiated so companies can keep in compliance without sacrificing productivity. This ultimately eliminates the need to choose between over-complying with reduced profitability or under-complying while risking significant legal and financial exposure.
With cloud-optimised deployment options including hosted, on premises or hybrid, the new platform addresses the rapid growth in pure and hybrid cloud deployments. Additionally, customers can leverage Aspect Managed Services offerings to actively monitor and manage their technology to optimise performance and maximise system effectiveness when IT resources are scarce. UIP 7.3 also features complete integration with Lithium's Social Web Analytics and Aspect Social, a cloud-based offering that aligns interactions organisations have with customers on Facebook, Twitter, blogs and online communities with their overall customer contact operations. These improved features result in one of the lowest TCO operations in the industry.
"Companies continue to look for ways to cut costs while still providing more value to their customers and addressing ever-changing consumer demands," continues Koziol. "Our aim is to equip our customers with the tools necessary to stay nimble in today's competitive consumer landscape and provide effective customer interaction management."
For additional Information see Aspect's Company Profile