NEW Global CX Landscape Study: 58% of CX Depts Don't Align with… Not all research studies are created equal.
And there is no clearer example of this than the new landmark report that's just a mouse-click away.

Executed by world-renowned research firm Vanson Bourne, findings of this FREE report are based on interviews with hundreds of CX leaders from the US, UK, Ireland, and South Africa. Sample findings include:
» 62% don't collect all the CX data they need
» 96% use some form of manual CX data analysis
» 58% of CX departments aren't aligned with rest of enterprise
» 40% cite customer vulnerability as a challenge in the last year
Many more…
P.S. How does your CX environment compare to those of your industry peers? Download this FREE report to find out!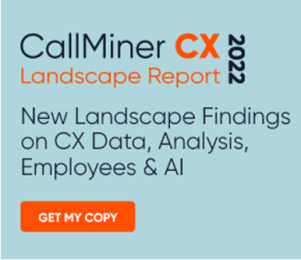 To Download the CallMiner NEW Global CX Landscape Report 2022 Click Here
CallMiner is the global leader in conversation analytics to drive business performance improvement. Powered by artificial intelligence and machine learning, CallMiner delivers the industry's most comprehensive platform to analyse omnichannel customer interactions at scale, allowing organizations to interpret sentiment and identify patterns to reveal deep understanding from every conversation.
By connecting the dots between insights and action, CallMiner enables companies to identify areas of opportunity to drive business improvement, growth and transformational change more effectively than ever before. CallMiner is trusted by the world's leading organizations across retail, financial services, healthcare and insurance, travel and hospitality, and more.
For additional information on CallMiner view their Company Profile