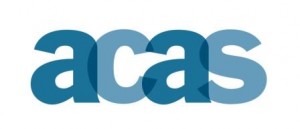 Workplace experts, Acas, have launched a new service called Helpline Online. Multi-channel customer service software company Synthetix has been appointed by Acas to provide them with a range of solutions, as part of a move to help increase support on their website.
Helpline Online is a dynamic FAQ knowledge-base solution, which answers employee and employer questions, using natural language techniques, to understand the customer's questions fully and intelligently choose possible answers.
Due to the complex nature of employment law, Helpline Online goes much further than conventional FAQ search tools, with many detailed expert decision tree dialogues that gently guide the customer towards an answer to their query.
Based on the web self-service tool – Synthetix faqtAgent and incorporating knowledge from Acas Helpline operators, Helpline Online is an innovative tool which helps customers' self-serve complex answers 24/7, straight from the Acas website. The tool reorganises the structure of the knowledge-base after every customer interaction, so customers are always presented with the most popular questions each time, helping to reduce avoidable contact via calls and e-mails to their contact centre.
Acas Helpline Assistant Director, Stewart Gee, said: "Helpline Online is a new interactive query tool which allows users to ask very specific questions about employment law or rights at work and to receive detailed answers in a format and language they will understand and at a time that works best for them."
"The system 'learns' from the questions that are entered into it and the Helpline Online team refines and improves content using the questions customers ask and their feedback on the answers they receive. Helpline Online is already handling in the region of 5,000 user sessions per week and we anticipate this is set to increase."
"The customer feedback we have received from those using the service has been fantastic. People are really appreciative of the advice that is provided and we are pleased to see that many have mentioned that the information has helped inform their later call through to our helpline."
Alastair Taylor, Commercial Director at Synthetix, said: "Since its implementation in June, the Acas faqtAgent has had a huge up-take in usage on their website, helping thousands of users find instant answers to their questions online. The large volume of enquiries being handled daily by their FAQ knowledge-base has rapidly made them one of Synthetix's busiest agents."
---
Additional Information
For additional information about Synthetix visit their Website