Key Facts for Retail Customer Service Managers – As noted by Trevor Flack, Contact Centre Manager at Spark Response

According the Institute of Customer Service (ICS), the UK is experiencing its highest levels of customer satisfaction since January 2014. In the latest index, non food retailers top the league table of customer satisfaction levels, closely followed by food retailers. Telecoms and utilities continue to record the lowest levels of customer satisfaction amongst customers.
Our infographic specifically highlights the key factors which drive customer satisfaction for non food retail shoppers.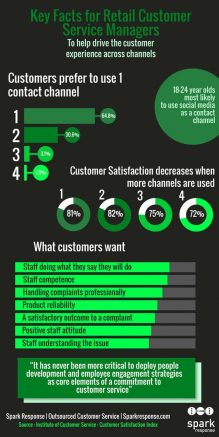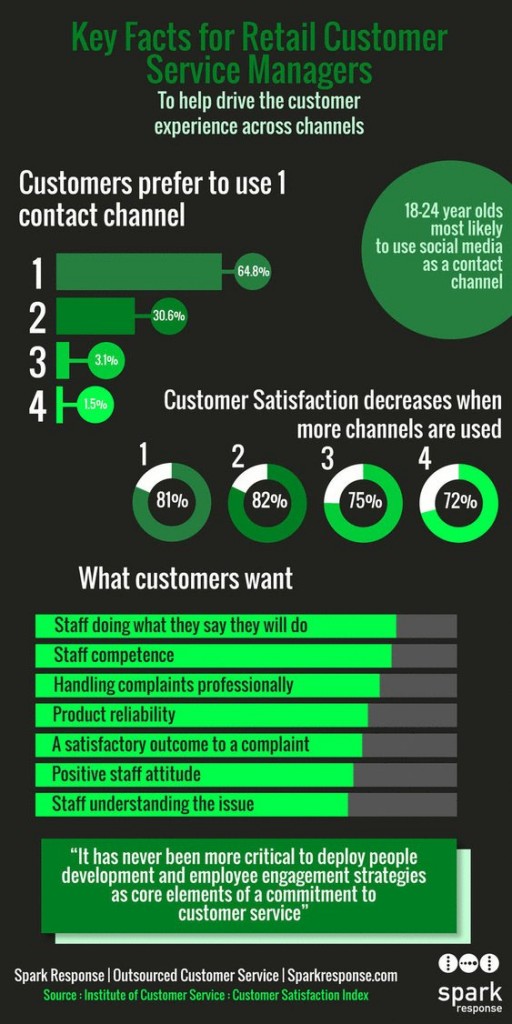 Contact Channels
The majority (64.8%) of non food retail customers prefer to interact with customer service departments via one channel; telephone. Whilst just 1.5% of customers admit to using 4 channels to get their issue resolved.
Interestingly, where customers use more than two channels, their level of customer satisfaction decreases significantly. Where customers are able to use just two channels, customer satisfaction levels are fairly static at around 81%. But when a third or fourth channel is used, satisfaction decreases to 75% (3 channels) and 72% (4 channels). This fact appears to be unique to the retail sector, and could be explained through a lack of response on a primary channel. For example in today's real time world, a 24 hour response time to an email is no longer deemed acceptable. In many cases customers will turn to social media to vent their frustration and seek quicker and more timely responses.
The challenge for retail customer service managers is to ensure that whichever contact channel a customer uses, the overall customer experience is the same. It's equally important to understand the reasons why customers utilise the channels they do. Perhaps unsurprisingly it's 18-24 year olds who are the biggest users of social media as a contact channel, whilst older generations continue to use telephony as their primary contact channel.
It is important to measure key metrics and call outcomes across each channel, in order to identify trends and patterns in the way consumers use contact channels.
The human factor
When customers are asked what they want from contact centres, six of the top seven responses can be grouped as human factors, the way in which a customer service advisor handles an interaction. Delivering on promises, being helpful, competent, professional, knowledgeable and understanding are all traits that customers expect in a customer service advisor.
This research therefore highlights the fact that employee engagement, training, and people development are all fundamental components of a successful customer service strategy.
In an industry with higher than average employee turnover, it's even more important to invest in our people to help retain knowledge, skills and experience.
---
Additional Information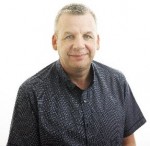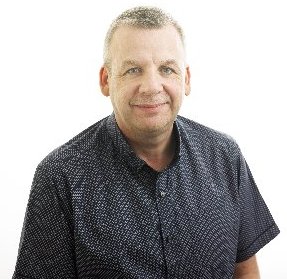 Trevor Flack is the inbound contact centre manager at Spark Response, providers of outsourced contact centre and customer services to B2C organisations. In his 15 years with Spark Response, Trevor has overseen customer service improvements at several of the UK's largest retailers, and has spent his entire career in customer service roles. Trevor now oversees a team of experienced operational managers and a multichannel contact centre with an average employee tenure of over 9 years.
Trevor can be contacted via the Spark Response Website