A growing North East contact centre is demonstrating its commitment to employees and proving it is a great place to work by creating an annual event to recognise the hard work of its staff.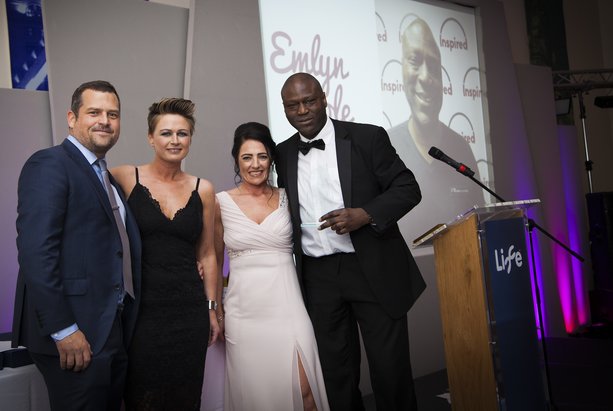 Inspired Outsourcing's latest initiative has seen the company create The Inspired Awards, which acknowledge and reward the outstanding performance, commitment and dedication of all its staff.
The Oscars-themed ceremony, which was held at the Centre for Life in Newcastle last month, saw employees pick up awards for a number of categories including, Most Valuable Advisor, Lifetime Achievement Award and the Rising Star Award, as well as three categories which were put out to ballot.
Kevin Hutchinson,  Director at Inspired Outsourcing (Pictured Far left) said,
"In an industry that is known for high staff turnover, we want to show our commitment to our people and thank them for their hard work," .
"It is important to us that they enjoy working for us, thrive in their roles and have the opportunity to develop their careers through training and progression within the business. How we see it is, if we can make Inspired a stimulating, fun and vibrant place to work it'll go a long way to retaining our employees.
"We have some great people who work for us so the Inspired Awards were really about acknowledging and rewarding all the hard work that they do and congratulating them on their achievements."
Inspired Outsourcing was established in 2013 and currently employs 140 staff and is aiming to recruit a further 60 by the end of the year.
The awards are just one of the staff engagement initiatives offered by Inspired, the company also offer several others including discounts on boot-camp, the option to 'buy' extra holidays, ad-hoc flexible working, a city centre car parking scheme, five-aside football, free fresh fruit and better health at work initiatives.
44-year-old Emlyn Cole, (Pictured far Right)  who joined Inspired Outsourcing, after 12 years of unemployment, through the company's partnership with *TKO Consulting, won the Best Employee in a Supporting Role award after demonstrating great passion for his work while working towards his targets.
He said: "I was so happy when I was shortlisted for the Inspired Awards. To be in a full-time job I love and then to receive recognition for doing well is a great feeling.
"The managers at Inspired not only work hard to help us to achieve our potential but also to create a nice working environment, which means we enjoy going into work too."
---
Additional Information
Photograph Caption: Kevin Hutchinson, director, Tracy Hollingsworth, HR officer, Tracy Taylor, Head of Resource, and Emlyn Cole, one of the award winners.
For additional information on Inspired Outsourcing visit their Website