Infinity CCS appoints European account Director to Support International Expansions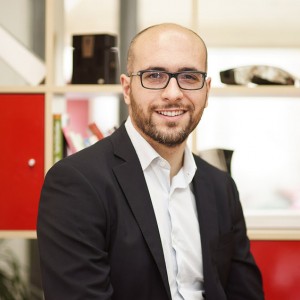 Infinity CCS – technology provider to the customer management outsourcing industry – has appointed Italian national Matteo Belardi to manage its growing portfolio of pan-European clients.
Belardi, who has more than 10 years' experience working in strategic account management within technology businesses, will manage Infinity's long standing partnership with Teleperformance, its client in seven international markets, and support other clients as they roll out the Infinity platform across their international networks.
"Matteo's appointment is testimony to the increasing dominance of pan-European and global players within the customer management outsourcing industry," says Infinity's Managing Director, Geoff Land.
"In pursuit of scalable efficiencies and consistent performance, outsourcers are keen to consolidate their use of key technologies like Infinity that can integrate with and enhance the performance of disparate, often inherited legacy systems. Matteo's extensive international project management expertise, combined with change management and consulting experience, means he is ideally skilled to ensure our technology roll outs deliver our clients' strategic business objectives."
Before joining Infinity, Belardi worked for a boutique management consultancy business in Milan and, for two years, held a key account management role within the robotics division of Zucchetti Group, a leading Italian provider of technology solutions and services. He has also co-founded a digital analytics and artificial intelligence start-up business operating in Italy and Switzerland that achieved profitability in its first year and continues to extend its revenues and client base. He has a Masters in business administration from Germany's Otto Beisheim School of Management, a PhD in management and organisations from the University of Rome and a Masters in business management from the University of Florence. He has been a visiting scholar at the Leonard N Stern Business School in New York and an external advisor to the Big Data Analytics Masters programme at the University of Florence.
The Infinity Platform is a highly configurable workflow engine combined with a unified agent desktop that empowers outsourcers to design and deliver multi-lingual, multi-channel customer experiences within multi-client environments.
---
 Additional Information


Infinity is a provider of technology and services that deliver excellence, efficiency and commercial advantage for outsourced customer management service providers. At the heart of its offer is the Infinity Platform, a combined agent desktop and workflow engine that empowers outsourcers to design and deliver exceptional customer experiences, across multiple campaigns, with ultimate efficiency.
Easy integration with popular CRM and telephony solutions makes Infinity the 'glue' that gets all disparate technology systems working together and creates a single point of capture for the data needed to manage client operations, refine their performance and drive transformational change.
For additional information on Infinity CCS visit their Website