Download Foehn's Guide to Making UC and Cloud Telephony Count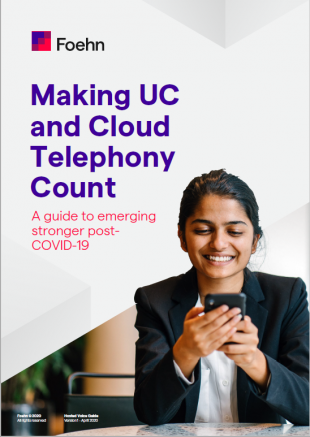 Drawing on real-world experience and business outcomes from leading practitioners in the midmarket space, this no-nonsense guide examines the business and technical issues that need to be considered for a successful transition to unified communications (UC) and cloud telephony.
Key Highlights
– How to emerge stronger post-COVID-19
– Practical steps on how to successfully transition to Unified Communications (UC) and Cloud Telephony
– Cloud Industry Insights
– The changing face of Unified Communications (UC)
– Mid-market examples of successful deployments

To download the Guide Click Here
Foehn provides cloud communications products, delivering contact centres and unified communications to the private and public sectors. We continually challenge ourselves to solve problems and build better cloud communications to help you work smarter. By combining our own technology, with uncompromising design principles and the power of open source, we can deliver truly intuitive communications products. This is how we make the complex simple. Regardless of your needs, our experienced team can help reduce the challenges and costs of moving to a new generation of cloud communications products.