Three Fusion Sunderland Advisors promoted to Team Leaders following the completion of internal training programme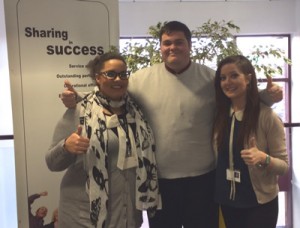 As part of an initiative to drive career development, three employees from leading local employer, Fusion Contact Centre Services, part of the BGL Group, have been promoted to Team Leader roles. The promotions follow the successful completion of an extensive internal training scheme.
Alongside their day jobs, Marianne Cuthbertson, Diana Sargent and Darren Waters have all spent up to two years undertaking the ´Trainee Team Leader´ development programme, which enabled them to take the next step in their careers and move from Advisors to Team Leaders. The three candidates, who have been with Fusion for up to eight years, undertook a number of challenges to prove their abilities, including presentations, interviews, role play and coaching sessions with senior colleagues from across the business.
Darren Waters, one of the new Team Leaders at Fusion Contact Centre Services, said:
"When I first started at Fusion, I had no idea what I wanted to do long-term. This in-house development programme was a great opportunity for me to explore a career in people management and it allowed me to begin shaping my future."
"Much of the programme involves practical experience where I was able to gain hands-on skills that I will definitely use. As part of the scheme, I was assigned a mentor and given the opportunity to temporarily manage a team within Fusion. My mentor observed me as I interacted with different team members. I really enjoyed owning the Team Leader role so was delighted to be offered a promotion at the end of it."

Mark Brannen, Head of Site at Fusion Sunderland, commented:
"Developing our people is an important part of what Fusion is all about. Our Apprentice programme has gone from strength to strength and our Team Leader development scheme has helped to uncover some strong new talent. It's always great to see employees promoted within the business."
Mark continued: "All three candidates passed the course with flying colours and I look forward to seeing them become even more successful as their new roles progress. It is extremely rewarding to be able to offer such a comprehensive in-house training programme that provides opportunities to help employees move forward in their careers."