Digital transformation and cloud migration are presenting unprecedented opportunities for contact centre performance. Equally, obsolescence in legacy systems is accelerating and could be placing your business at risk: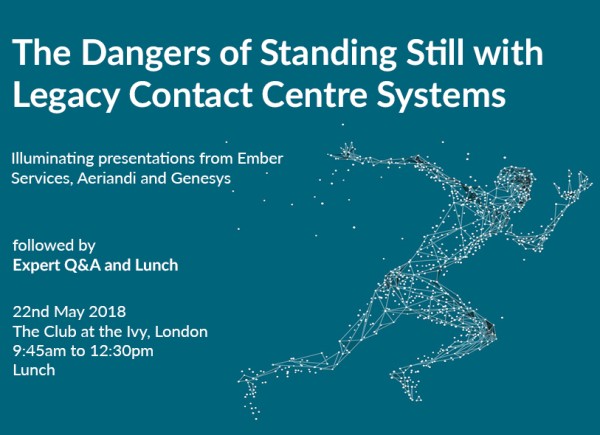 Learn how digital transformation is leaving legacy systems behind
This exclusive event brings together leaders in contact centre technology, market insight and system deployment, giving you the answers you need.
Agenda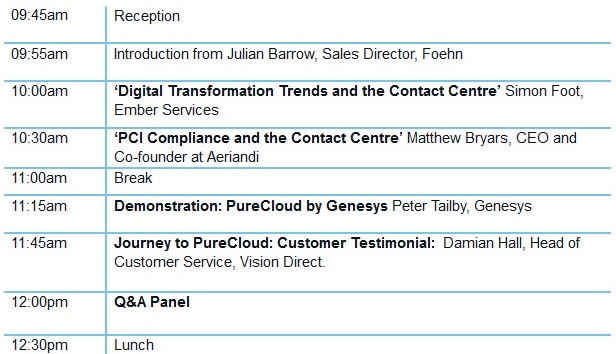 Speakers

Simon Foot is Group Development Director for Ember Services.
Simon has spent 20 years working in customer centric roles and led numerous transformation projects designing and implementing operating models at a strategic, operational and technological level.
A particular area of expertise is in channel optimisation and the implementation of digital initiatives.
Peter Tailby is Manager for Cloud PreSales and Cloud Architects for EMEA at Genesys.
Peter spent 8 years with Interactive Intelligence in cloud solutions and support engineering management.
Matthew Bryars is CEO and Co-Founder at Aeriandi.
Shortly after completing a Masters degree in physics from University College London, Matthew was one of the first to see the potential for highly secure, cloud-based business services – and promptly co-founded Aeriandi. He applied his problem solving skills to the business world and has been responsible for building the company from a start-up to a well renowned business – running services for some of the world's largest banks and contact centres.
To Register to attend this event Click Here