Winners announced at the European Contact Centre and Customer Service Awards 2018

– Booking.com wins Best Large Contact Centre and Best Pan-European Contact Centre
– New award for Best Implementation of Artificial Intelligence in Customer Service won by Vodafone
– Virgin Holidays, Teleperformance Greece and Volkswagen win Contact Centre Golds
– 1,200 people at the awards evening and 19 countries represented at the largest and longest running awards in the customer contact sector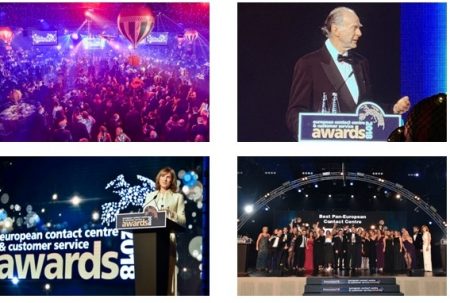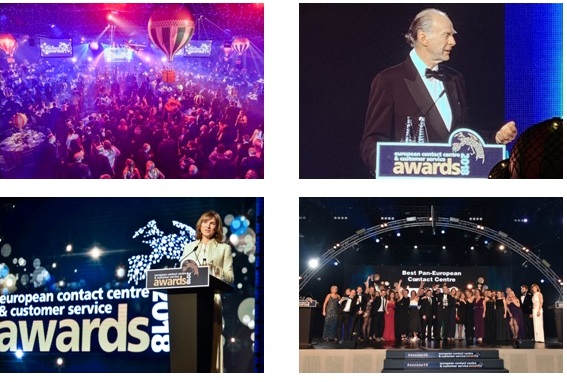 On Tuesday 27 November Evolution in Battersea Park hosted the European Contact Centre and Customer Service Awards 2018 with finalists travelling from across Europe to be at these prestigious awards. Booking.com were crowned Best Large Contact Centre and Best Pan-European Contact Centre, while Teleperformance Greece won the Best Multi-Lingual Contact Centre.
The ECCCSAs are nearly two decades old and the evening had a record 1,200 people in attendance – making it the largest, as well as the longest running awards programme in the sector. Now the resident host of the awards, Fiona Bruce, TV presenter, journalist and newsreader, was supported by Sir Ranulph Fiennes OBE who shared some of his truly remarkable stories of resilience.
Director of Customer Service at Booking.com, Louise Locke said, "the awards are an excellent avenue for the customer service teams to demonstrate the values that we represent in Booking.com. Being able to enter across multiple categories reinforces the talents within our business and encourages every member of our team to do their very best. Considering the expertise in our industry, it is a true privilege to be successful as gold winners in two very visible categories."
"We're delighted to win one of the most prestigious customer service awards in Europe," said Mark Billingham, Customer Operations Director at Shop Direct who won Most Effective Business Transformation Programme in Customer Service. "Our digital transformation has set us on a journey to become known for an amazing customer experience. This award shows we're well on the way to getting there. Our entire team go the extra mile to deliver for our customers every day and this award belongs to them."
Chair of the Judges, Ann-Marie Stagg, said of the winners, "it was a delight to see those that have worked so hard get the recognition they deserve. Each finalist went through a thorough two stage process, including face-to-face panel judging and site visits. We strongly believe in the importance of a robust process so that winning an ECCCSA means you know that your initiative really is the best of the best."
"Winning the Gold Award for the Best Implementation of Technology category is a wonderful acknowledgement of ICON Communication Centre's strategic direction to further develop its technology focus within our contact centre, supporting continued success for our clients," commented Helen Hickin, Managing Director at ICON Communication Centres s.r.o. in Prague.
"Our colleagues are absolutely thrilled with the win which is the result of a wonderful team collaboration harnessing everyone's skills and experience. The ECCCSAs are the leading organisation for recognition within our industry, and we appreciate their dedication in driving the sector forward by working hard to identify and reward excellence. They also know how to throw one heck of a party!"
"I'm simply blown away by the enormity of these awards," said Stuart Dorman, Chief Innovation Officer at main event sponsors, Sabio. "We've been supporting the ECCCSAs for many years and have seen the programme adapt as the industry has changed. They are now by far the most impressive awards for customer contact and customer experience in the UK and across Europe."
The industry got excited on social media with winners and guests alike sharing their photos and comments including Pamela Clifford, Customer and Engagement Manager at Capita, who with Tesco Mobile won Best Voice of the Employee Programme, sharing: "We were absolutely delighted to win this award and the whole team had a great night #ecccsa18".
"It was certainly the place to be," said Ross White, Head of UK Marketing at Avaya who were the VIP Lounge sponsors last night. "Anyone who's anyone was there from the industry. It's clear that if you think you've done something great in your business to improve the customer contact experience then it's worth entering these awards. Not only do you get recognition on a European stage, but you get to test and benchmark just how good your initiatives or team are and learn so much from the process."
---
Additional Information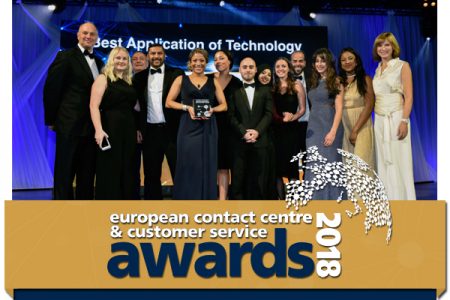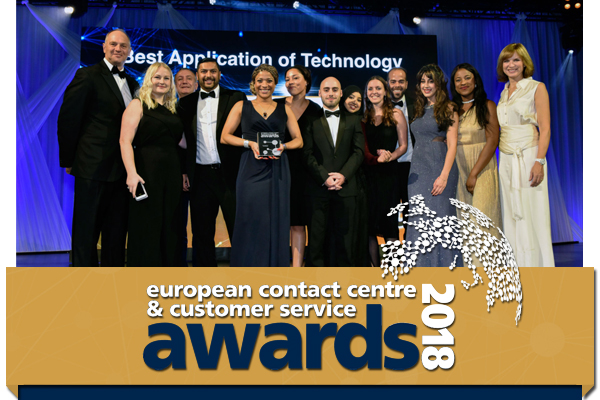 The full list of Gold winners can be found by Clicking Here
The European Contact Centre and Customer Service Awards (ECCCSAs) are the largest and longest running awards in the customer contact industry.
Highly regarded for the integrity and credibility of the judging process, with high calibre judges that are handpicked for their experience and knowledge. These judges can recognise organisations that are leading the way in delivering exceptional service to customers.
These organisations value their people, continually innovate to improve the customer experience, and operate efficiently and effectively. And they could be anywhere in Europe.
Foradditional information on the European Contact Centre and Customer Service Awards Click Here