Contact Centre Network Northern Ireland (CCNNI) host inaugural industry awards
Contac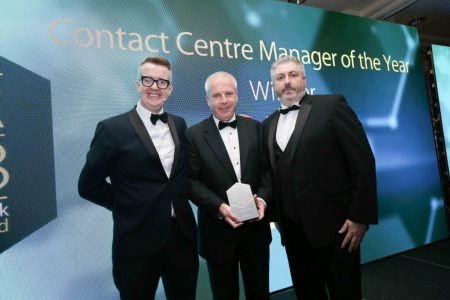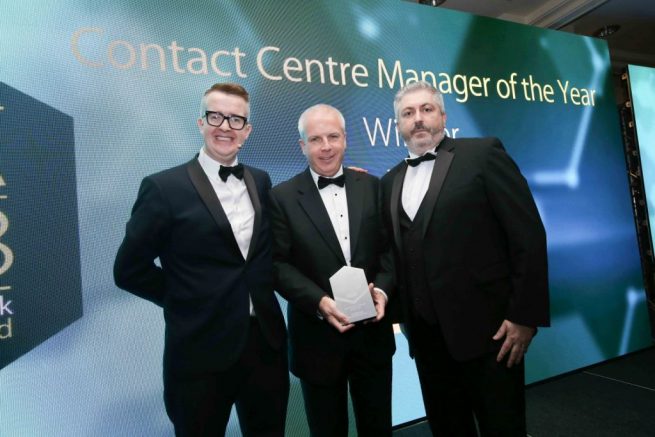 t Centres from across the industry in Northern Ireland were honoured at the inaugural Contact Centre Network Awards. The event, a first of its kind in Northern Ireland, was attended by 250 guests combining employers and employees of the industry as well as industry suppliers and contractors.
Held at the Hilton Hotel in Belfast and hosted by the highly acclaimed David Meade, the awards celebrated the achievements of both individuals and companies working within the NI contact centre industry, encouraging both excellence and innovation.
Thousands are employed in the sector across Northern Ireland and Contact Centre Network NI are working alongside centres of all sizes to highlight the contribution NI's Contact Centre industry makes to the economy and the wide range of career opportunities it offers. The awards demonstrated that the industry is full of exceptional talent and is now viewed as a career of choice by many.
Reflecting on the ceremony, Directors of Contact Centre Network Northern Ireland (CCNNI), Jayne Davies and Elizabeth Ward said, "We were delighted with the inaugural Awards which offer recognition for such an important industry and we look forward to building a bright future with our members."


Headline sponsors of the evening were Jabra who presented two of the most prestigious awards;
Outsourced Contact Centre of the Year, awarded to Concentrix and Inhouse Contact Centre of the Year which was won by Danske Bank.
The Awards were judged by the Welsh Contact Centre Forum and Managing Director, Sandra Busby commented: The calibre of finalists in the Awards were of an exceptionally high standard and the judging was no easy task. It was a real pleasure being involved in recognising the hard work and successes that take place in contact centres across Northern Ireland."
John Nesbitt, Sales Director Ireland at Jabra (Pictured left) added
"All finalists and winners should be immensely proud of their achievements and the huge part they play in delivering customer satisfaction excellence on a daily basis in this demanding working environment."
Other sponsors included: Allstate NI, Welsh Contact Centre Forum, Syndeo, We Build Bots, Ulster Bank, Firstsource Solutions.
Individual winners:
Jonathan Crory of Danske Bank for Support Person of the Year – Roxana Pestrita of Ulster Bank for Sales Agent of the Year – Janine McMeekin of Capita BBC Audience Services for Advisor of the Year – Dearbhla Gillespie of Firstsource Solutions for Trainer of the Year – Lee McCrory of Echo Managed Services for Newcomer of the Year – Andrew Ferris of BT for Team Leader of the Year – David Sloan of BNP Paribas Personal Finance for Support Manager of the Year – Jim McCooe of Lloyds Banking Group for Contact Centre Manager of the Year. (Pictured Centre)
Highly commended awards:
Ryan Graham of Yell for Team Leader of the Year – Stephen Lomas of Allstate NI for Contact Centre Manager of the Year.
Company Winners:
Ulster Bank and Lloyds Banking Group for People Engagement – SSE Airtricity for Business Improvement Strategy – NIE Networks for Customer Engagement – Firstsource Solutions with NowTV for Support Team of the Year – Santander for Corporate Social Responsibility – Firstsource Solutions for People Development – Concentrix for Outsourced Contact Centre – Danske Bank for Inhouse Contact Centre of the Year.
The judges awarded a highly commended certificate to BNP Paribas Personal Finance for Inhouse Contact Centre of the Year.
---
Additional Information
For more information about Contact Centre Network Awards Northern Ireland Click Here


Jabra is a leader in engineering communications and sound solutions – innovating to empower both consumers and businesses. Proudly part of the GN Group, we are committed to letting people hear more, do more, and be more than they ever thought possible. Through sound, we help transform lives. Jabra engineering excellence leads the way, building on 150 years of pioneering work. This allows us to create integrated headsets and communications tools that help professionals work more productively; and wireless headphones and earbuds that let consumers better enjoy calls, music, and media.
Jabra employs close to 1,100 people worldwide, and reported annual revenue of DKK 4bn in 2017. The GN Group, founded in 1869, operates in 100 countries and delivers innovation, reliability, and ease of use. Today, GN employs more than 5,500 people, and is Nasdaq Copenhagen listed.
For more information on Jabra visit their Website or view their Company Profile