CardEasy wins prestigious 'PCI Award for Excellence'
Syntec were proud winners of this PCI Award for Excellence for the CardEasy 'keypad payment by phone' system at a glittering awards dinner last night at the London Marriott Hotel, Grosvenor Square in Mayfair, London.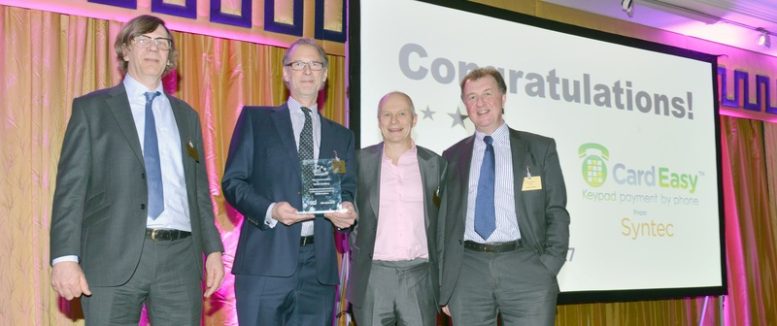 Syntec's directors collect the PCI Excellence Award for CardEasy
CardEasy is Syntec's PCI solution for 'cardholder not present' phone payments and for de-scoping call centres from PCI DSS regulations and controls.
These inaugural awards were set up to coincide with the PCI London Conference at which Syntec is showcasing its CardEasy solution this week. Founder of the awards, Robert Walker of AKJ Associates commented: "The idea was to create more than just an awards ceremony. We want to show who has proved their expertise on a significant level to thousands of potential end user clients. Our research has shown that end users want to know who can do the work and who can prove it."
CardEasy works in mid-conversation between the customer and agent, allowing the paying customer to provide their card numbers (PAN & CV2) using the DTMF touchtones of their own telephone keypad ('dual tone multi-frequency'), whilst remaining connected to the call centre agent throughout. CardEasy also works as a customer self-service (IVR-automated) system and is developed and fully supported by Syntec, a PCI DSS level 1 service provider and Visa Merchant Agent.
CardEasy de-scopes call centres from PCI DSS regulations and controls by preventing agents from hearing or seeing the sensitive payment card numbers, automatically blocking them from call & screen recordings and preventing them from entering the contact centre's systems and networks – so they are no longer available to be seen, heard, stored or compromised.
Colin Westlake, Managing Director of Syntec commented:
"At a time when card data security has become a major issue for both consumers and organisations alike, we are delighted to have been recognised by this prestigious award for the excellence of our solution for 'cardholder not present' payments in the global field of DTMF technology and securing contact centre payments .
The CardEasy system is very flexible and scalable and works with the merchant's own telephony, CRM systems and payment gateways, and is already in use internationally for improved security and customer trust by leading brands such as Staples, Allied Irish Bank, Charles Tyrwhitt, Miele and Micron"
The system is available in Syntec network-hosted and hybrid premise-based versions, supporting both SIP, ISDN or any mix of the two. With SIP-based telephony, a fully cloud-based variant removes the need for any premise-based equipment. All versions use the CardEasy cloud for their PSP connections and the hybrid and cloud options work with the client's existing telephony provider.
Pre-integration with all the leading payment gateways means that CardEasy can be deployed by merchants without any need for changing existing systems, telephony or working methods. The customer/call centre agent experience is also improved, by improving trust and also shortening calls by removing the need for the customer to read out their numbers for the agent to take down and enter.
---


Additional Information
For additional information on Cardeasy Click Here
For additional information on Syntec visit their Website or view their Company Profile