Proactive Engagement Suite
• Offering responds to shift in demand for proactive, predictive customer care wherever, whenever a customer needs it
• Pure cloud, SaaS-based customer communication application suite that fully automates two-way omni-channel interactions
• Purpose-built applications that deploy in hours providing advanced security and fraud detection for debt collections, financial services transactions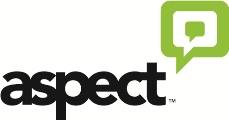 Aspect Software have announced the launch of Aspect Proactive Engagement Suite, a SaaS-based advanced suite of customisable outbound customer engagement applications. Previously only available in select markets, the suite is designed to provide personalised, compliant, and cost-effective interaction experiences entirely in the cloud.
"Given how pervasive mobile internet has become, consumers' expectations regarding how, when and where they communicate with the brands they do business with is evolving. Consumers want companies to anticipate their needs and proactively take action to address that need, whether it's as simple as a utility company notifying its customers of a power outage to more sophisticated and personalised notifications," says Chris Koziol, president and general manager of Aspect's Interaction Management division.
"To do this, companies must not only provide seamless and integrated customer service on new channels, but they also need to become more proactive and predictive in the way they interact with customers. Our aim is to give brands the power to proactively deliver the information consumers need, when they need it and in their preferred mode of communication."
Aspect Proactive Engagement Suite's omni-channel capabilities allow customers to select the channel on which they would like to be contacted, respond in the channel of their choice and even switch between channels as part of one seamless interaction. And, with Aspect's unique and marketing-leading position in the Workforce Optimisation and Interaction Management space, customers can also choose to be transferred to a live agent during or after an automated interaction.
"The Aspect Pro Active Engagement solution was incredibly easy to implement and integrate into our existing business processes," says Graham Blackburn, contact centre manager at Anglian Water. "It has allowed us to consolidate multiple channels of communication into one cost-effective, unified platform, with minimal involvement on our part. Now we can keep customers informed on a channel of their choice and proactively contact them rather than having to wait for them to contact us."
As a SaaS offering that utilises industry best practice-based template applications, solutions can be deployed in hours, not weeks, with flexible pricing models and options to scale call volumes up and down as needed. Integrating with Aspect's Interaction Management capabilities, the Proactive Engagement Suite allows businesses to complement their agent-based outbound campaigns with a fully automated solution requiring no additional hardware or telephony, no capital upfront investment and without requiring additional headcount.
"In order to consistently provide exceptional customer experiences that attract and retain customers, brands need to adapt to the changing consumer environment," continues Koziol. "Aspect Proactive Engagement Suite helps companies drive memorable, positive customer experiences while saving costs. Because the suite is a pure cloud solution and based on pre-configured templates, the solution offers lower cost of deployment, quicker time-to-value, and flexibility in scaling up or down as business needs change."
With Aspect's rich experience in verticals such as healthcare and financial services, customers will benefit from purpose-built applications tailored to their business needs:
• Aspect Collect: An automated debt collection application compliant with FCC and regional outbound regulations that can be fully integrated with existing systems such as risk engines and is designed to measurably increase payment rates and improve overall business efficiencies
• Aspect Survey: A multi-channel and personalised survey solution to better understand consumer sentiment and follow up to avoid negative impacts or capitalise on profitable upsell opportunities
• Aspect Verify: An automated solution for monitoring, identifying, preventing and proactively notifying organisations and customers of potentially fraudulent transactions including online banking, credit card and retail purchases, access to sensitive enterprise information assets.
Customers can also build their own proactive engagement applications using an engagement platform that is the foundation for the application suite.
Aspect Proactive Engagement Suite is integrated with Aspect's self-service and agent-assisted products and is available now.
For additional Information see Aspect's Company Profile