Are Multiple Conversations Realistic for Customer Service Operators? FM Outsource poses and answers this perplexing question
We no longer expect Customer Service operators to sit by the phone and talk to each customer one-on-one. As Customer Service booms, and the need for multiple conversationsgrows, customers' expectations increase too. They don't want – or need – to wait in a telephone queue for 30 minutes or more. Not only do customers expect more of businesses, but businesses expect more of their employees. One customer at a time isn't enough – matching consumer needs means handling multiple contacts at once. But how many is too many? Let's investigate.
In a Customer Service dream world where everyone is positive and has nothing bad to say, we can give operators dozens of chats at once. Just throwback to those MSN days, right? But that's living in a fantasy world – here on earth, you can't expect CS chats per hour to increase without quality falling behind. It's a juggling act.
The magic number for a customer's maximum waiting time is a whole 50 seconds from their last message. If you take any longer than that, their satisfaction drops. When operators had a concurrency of 3,4 and 5 chats they all kept their response time under 50 seconds – 45 if you want to get precise! If you push the chat capacity up by 1 to 6, then things start to fall apart, with response times rising to 70 seconds! You wouldn't think moving from 5 to 6 would cause such a reaction but the proof is in the pudding.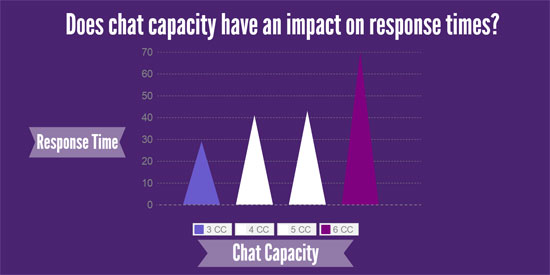 Working in Customer Service means being masters at multi-tasking, with requests upon request and it's a thankless job, but one you can only push so far.
When studying operators with the chat capacity of above or below 5, they struggled to process as many chats as their colleagues on a cap of 5. An operator capped to 6 chats will be still working their way through their first set of chats, whilst an operator of 5 is already on their next set. And on the other end of the scale, an operator on 4 chats or less is sat around, time wasting. Not good.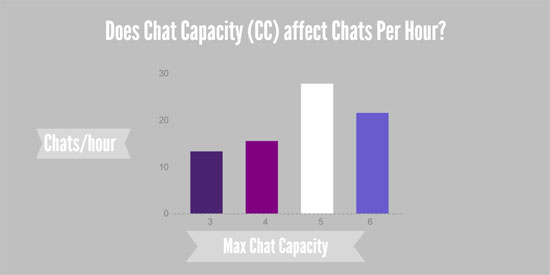 The magic number for chats per hour seems to be that number 5 again. But its not all about chats per hour and response times, what about the actual quality of the conversations being had?
We have implemented our own internal rating system for our Customer Service for clients, looking at Customer Experience from many different levels; conversational, operator, team, skill, brand, product and company. And surprise surprise, we found operators' internal quality rating was better the less chats they dealt with.

There is no real change of quality when dealing with 1, 2 or 3 chats but when you start managing with 4 and 5, it can begin to slip.
Customers don't really mind how businesses deal out chat capacity, as long as operators maintained their friendly nature and resourcefulness and didn't let the number of chats they were taking show in their work. Even if customers can't notice how stressed out an operator is, no one wants an unhappy team so keeping chat capacity to four or five seems like the happy medium to keep everyone involved happy.
So we've studied a lot of charts and talked about a lot of numbers, but what does this all prove? That Customer Service operators can handle more than one customer at one time, without decimating consumer sentiment. And there you have it – no more excuses. Get yourself on the webchat bandwagon.
---
Additional Information

FM Outsource provides bespoke outsourcing solutions for businesses of all sizes across customer services, digital marketing, and IT development. Experts in digital communications, FM Outsource helps businesses respond to and engage with customers across email, Facebook, Instagram, SMS, Trustpilot, Twitter, voice and webchat. Our ethos is to offer a unique balance of 24/7/365 productivity and quality using in-house native-speaking multilingual staff delivering exceptional consumer experiences. Working with start-up businesses through to enterprise level clients, we offer experience and services across a range of verticals including catering, fashion, finance, logistics, sports, retail and utilities.
For additional Information on fm Outsource visit their Website