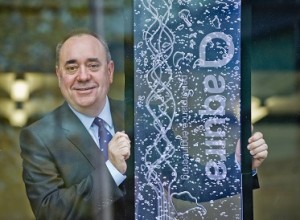 A further boost to Scotland's economy was welcomed today (11th October) by First Minister Alex Salmond when he officially opened Aquira's Sales Lab and announced a further 220 jobs at Aquira's Glasgow based contact centre..
This brings the total number of new jobs to 420, after the First Minister announced an initial 200 vacancies in June.
Officially opening our Sales Lab, the First Minister said: "Today Aquira has committed to creating a further 220 jobs, which will bring their total Scottish workforce to 420 and I look forward to continued work with Aquira to grow its presence in Scotland even further.
The Sales Lab is a fantastic facility, which includes an important training resource allowing Aquira to meet its commitment to give some of Glasgow's young unemployed a practical and promising career. I'm delighted to announce these further jobs, which demonstrates Aquira's commitment and confidence in the Scottish workforce and strengthens our position as an attractive country to invest in."
Mark Walton, CEO at Aquira, said: "Our new investment in Glasgow is a strong reflection on the success of our current operation. It is also a ringing endorsement of Scotland's reputation for business and the skills of the local workforce.
We have ambitious plans for growth and the expanded team in Glasgow will have a significant part to play in realising them. Our growth plans will also open up exciting employment opportunities for all ages, including young people.
We believe in the value of recruiting young people and growing their talent for the benefit of the business. That is why we are pleased to launch this new recruitment drive and look forward to helping talented young people into employment."