5 Signs Your Legacy Call Recording Solution is a Liability according to Chris O'Brien, Digital Content Manager at Aspect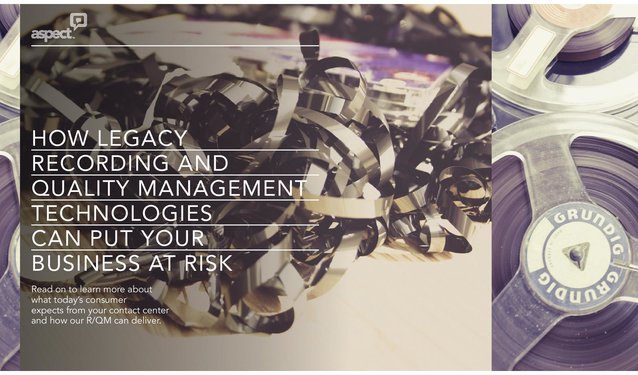 Customer experience may not be the first thing you think of when it comes to quality management and call recording solutions. But maybe it should be.
As recently as five years ago, calls were primarily recorded and analyzed as a way to spot-check compliance with consumer protection regulations, drawn from a small random sample of interactions.
In today's world, the quality assurance process is much more sophisticated. It serves as the guiding force behind understanding and meeting your customers' expectations. That's a significant shift, considering the weight that most contact centre leaders place on customer experience.
A recent report from Aberdeen found that 91% of those surveyed said that "improving customer experience results and consistency" was a top priority driving workforce optimization initiatives in the contact centre (Contact Centre WFO: How to Balance Customer Needs with Agent Productivity, May 2015).
If your call recording solution pre-dates this technology shift, you could be missing key insights into consumer sentiment and behaviour – insights that your customers expect you to have, and that your competitors may already be acting on.
Here are five signs that your business could benefit from an upgrade to newer technology:
Limited reporting capabilities. Highlighting where problems may exist in your operation is a critical function of quality management. A solution that limits or restricts your ability to drill down, drill up, filter data, graph in different coordinate systems and correlate data from multiple systems is not giving you the complete picture you need of your customer data.
Lack of integration with other systems. The ability to seamlessly share reporting data with other systems and functional areas saves your business time, energy and cost. If your recording data is trapped in a siloed system, the effort required to extract, analyze and disseminate the information you collect can negatively impact productivity.
Inability to capture 100% of customer interactions. Older recording systems designed to perform "spot checks" did not consider it a necessity to capture every call, particularly because limited analytics capabilities made it impossible to gain insights from a large volume of data. Today's systems no longer face those same limitations, making it industry standard to now record 100% of the interactions taking place in your contact centre.
No support for speech analytics. Speech analytics technology is the key to automatically translating customer calls into insights. It can unmask hidden problem areas in your business, reveal customer preferences, and help shape initiatives for operating more efficiently and cost-effectively. A recording solution that does not utilize speech analytics is only performing a fraction of the tasks you should expect a modern solution to perform.
Proprietary/non-standard recording format. Some companies will attempt to lock you into a long-term relationship by making it difficult or expensive to access your historical data outside of their proprietary recording format. These formats also tend to compress and decompress data more slowly and less efficiently than industry standard formats. They may use an encryption process that strips your files of metadata, making it more difficult to search your archived recordings.
As you can see, it's not always safe to assume that an upgrade can wait until something goes wrong.
---
Additional Information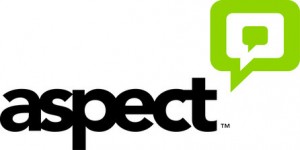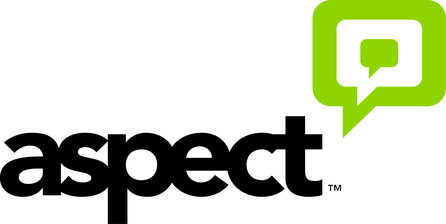 Chris O'Brien is Digital Content Manager at Aspect
Chris is a 15-year creative services veteran, with a background in copywriting, content management and graphic design. She works with the Aspect marketing and product teams developing digital assets (like infographics and eBooks) to help businesses make smart customer contact decisions.
Find out more about the risks of a legacy recording system in our eBook, How Legacy Recording and Quality Management Technologies Can Put Your Business at Risk. Click Here
For additional information on Aspect visit their Website or view their Company Profile