Join Aspect at the VIP Lounge (Stand 2400) at CCC Expo, Excel London 2018 and discover how we can transform your customer experience.

The Lounge offers a chance to network in a relaxed and hospitable environment, complete with complimentary refreshments and nibbles.
Aspect industry experts will be on hand to discuss the latest technologies and trends. Use the link below to book a meeting with one of them and experience our experience.
Don't miss our Director of Natural Language Processing, Dr Lisa Michaud's seminar on 'Why Contact Centres Need NLP Technologies' taking place 21st March, Seminar Hall 11 at 11.45am.
Addressing the science of human language understanding and what it brings to the contact centre.
---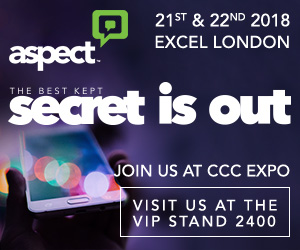 Additional Information
To register to attend CCC Expo 2018 (21st/22nd March) Click Here
To Book a meeting with an Apect Consultant Click Gere
For additional information on Aspect visit their Website or view their Company profile