At last month's UK National Contact Centre Awards 2016 the team at contact-centres.com were delighted to receive an invitation to attend the prestigious event by contact centre recruitment specialists, NRG plc.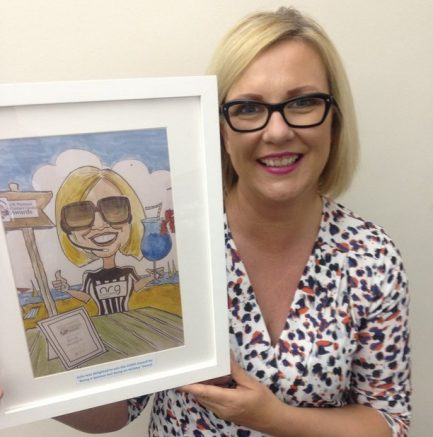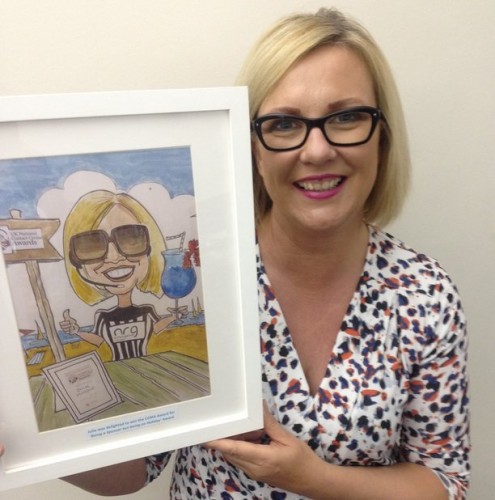 The table hosts, NRG plc, were sponsoring an award but, regrettably, NRG's organiser for the event, Julie Mordue, could not be in attendance as she was 'otherwise engaged'.
Whilst we were tweeting the award winners that night we received a tweet from Julie attaching a photograph of her also busily tweeting to her many followers the results – (Bad mistake Julie!)
As a thank you for the kind and much welcomed invitation from NRG, the next day our talented freelance cartoonist, easycartoons,was contacted and detailed instructions were given, such as Julie being a Newcastle United fan, in order that he could work his magic!
The cartoon was duly received in the office, printed, framed and posted to the recipient.
We think that Julie was delighted with the cartoon as the photograph would indicate!
---
Additional Information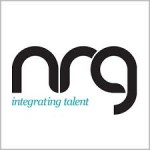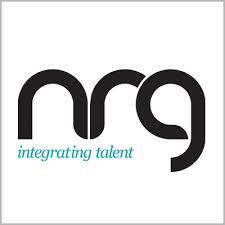 Julie can be contacted at JulieMordue@nrgplc.com
For additional information on NRG plc visit their Website
For additional information on the CCMA National Contact Centre Awards visit their Website
For additional information on the Cartoonist, Steve Callaghan, visit his Website or tweet him @easycartoons