The voice of a company –  The contact centre agent as a brand ambassador and indispensable component in customer service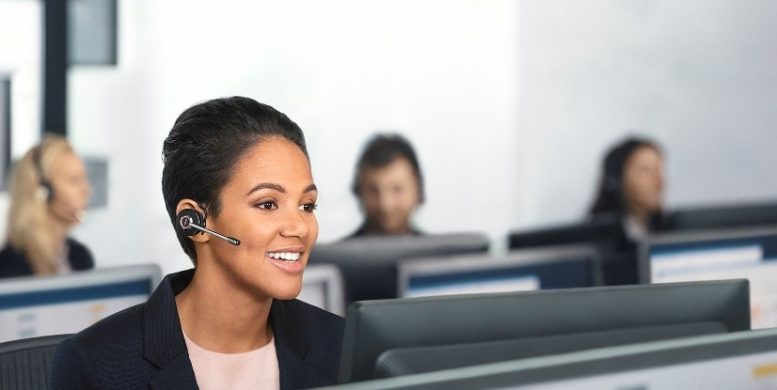 Many studies have shown that customer experience is playing an increasingly important role to help businesses stand out from the competition. Meanwhile, product and price are increasingly taking a back seat. The task of customer experience management is to deliver tailored, relevant content and offers to the customer via various channels along the customer journey. As the old saying goes, "The customer is King (or Queen)". The goal then for the contact centre should be to create a WOW factor to increase both customer satisfaction and brand loyalty.
Companies have recognised the importance of customer experience. In their 'Digital Trends 2020' survey, Econsultancy and Adobe asked companies about the most important business opportunities for 2021. Customer experience topped the list for the third year in a row, ahead of content marketing, video marketing and automation. This trend is also confirmed by Deloitte's 'Global Contact Centre Survey' and Cisco's 'Contact Centre Global Survey 2020', which spoke to  decision makers in the contact centre industry. It is clear that businesses must focus on customer service, but how can they make meaningful improvements?
The problem determines the channel
In the area of customer experience, companies are investing in the design and content of their website, new technologies and communication channels. In particular, businesses are looking to AI solutions such as chat and voice bots to increase efficiency and reduce cost. Where possible, customers should be able to help themselves. Customers are happy to accept "self-service" solutions and even prefer them over contact by phone, as simpler questions can be clarified at any time and often more quickly. This is a win-win situation for both companies and customers; service is automated, thus more cost-effective, while customer satisfaction is increased.
However, when it comes to more complex problems, customers still prefer the telephone. Although customers today have a variety of communication channels at their disposal, the telephone is still one of the most popular. According to a 2019 Genesys customer service study, for the majority of respondents (58%), being able to reach a company by phone is very important. Additionally, almost two thirds (62%) said people provide the best customer service. This also aligns with the findings from Salesforce's. In its 'The State of the Connected Customer' report, 64% of consumers, and as many as 80% of business customers, expect inquiries to be answered in real-time. Real-time interaction is therefore enormously important for consumers and even more so for business customers. This shows that if a business can provide real time customer service, the telephone is clearly superior to other channels.
Human connection is key
The modern customer wants to feel a human connection with brands, according to previously mentioned Salesforce study. Technology should improve the connection to the company, but not replace sales and service staff. Companies and contact centres should therefore pay particular attention to the quality of their service and the resulting customer satisfaction. Nevertheless, customers repeatedly have negative experiences.
For example, the Covid 19 pandemic resulted in increased call volumes that companies were often unable to cope with. Customers now find the need for a second or third call, as well as switching to another channel such as e-mail, very frustrating. Emotion is the most important factor in customer dialogue, as a survey by the consumer advice centre shows. Friendliness landed in first place among the top 5 critical factors for good customer service with 32%. This is just ahead of the contact person's competence (31%) and the ability to resolve problems quickly (19%). However, according to Salesforce, the reality often doesn't match the expectation. As many as 68% of customers want brands to demonstrate empathy toward them, but only 37% say brands actually do. Emotion is even more important to business customers than to consumers – 66% of business customers say they feel emotionally connected to the brands they buy from the most, compared to 49% of consumers.  This shows that the contact centre agent has a very big responsibility. They are the human component and an important piece in the customer service puzzle. Accordingly, the balance between digital channels, automation and the use of real people in customer interactions must be perfected.
Focus on the contact centre employee
To improve speed and quality in customer service, the first step should be to focus on ensuring a seamless customer experience. To do this, it is necessary to implement an omni-channel strategy. The various contact points and channels must be integrated and connected, and all information about a customer must be collected in one place and accessible to customer service. A change in contact method should not result in the customer having to explain everything all over again. Intelligent call routing can ensure that the contact person with the highest level of competence for the specific case is found as quickly as possible. In addition to technological solutions and processes, companies should focus their attention on their employees. According to a study by PwC on the future of the contact centre and CRM market, one of the most important market trends will be upskilling human service agents. This will help agents become a more empathetic "touchpoint" for customers and better brand representatives. With increasing automation, the phone call as a customer service channel will experience less volume, but the complexity of phone calls will continue to increase. People and their ability to empathise have always been an important aspect of the customer conversation, and the pandemic has made this even more critical.
Regular training for service agents should be a given, not only to improve technical competence, but also to help coach soft skills. If a problem cannot be solved right away, the agent should be able to respond empathetically to the customer and convey to them that they are understood and taken seriously. Of course, the agent experience plays a key role. A dissatisfied contact centre employee suffering from stress will find it harder to muster patience and empathy for an annoyed or rude customer than a satisfied and motivated one. But in reality, call centre employees rarely seem to be truly satisfied. In Cactus' Jobs Satisfaction Survey, a measly 10% of call centre workers feel that management's recognition of their performance is very satisfactory. Call centre employees are diagnosed as unfit for work due to depression more often than any other employees. In addition, the enormous workload and dissatisfaction leads to high turnover; call centres suffer from the highest employee turnover in companies across all industries. At the same time, onboarding new agents is costly and the quality of service suffers when employees and experience are missing. Retaining employees should therefore be a high priority.
Improve employee satisfaction
Decision makers in contact centres are well aware of the role of "agent experience" – in the Cisco survey mentioned, 74% of contact centre decision-makers said they believe it plays a significant role in the customer's experience. It's up to these same decision-makers to improve things for their for employees, including fair pay, greater recognition and career opportunities as well as improving working conditions. Stress and frustration are caused by lengthy processes, poorly functioning technology and uninspiring working environments, among other things. Large offices with agents sitting too close together create enormous noise pollution. In particular, conversations among colleagues – even if they are conducted quietly – are difficult for other employees to tune out. Telephone conversations impair concentration even more, as the involuntary listener automatically tries to fill in the missing half of the conversation in their head. In general, noise is a stress factor for the human body. Noise can cause increased blood pressure and increased pulse rates. In the case of constant exposure to noise, symptoms can range from headaches and concentration problems to muscle tension, stomach and intestinal problems, and sleep disorders.  It is no surprise then that health and psychological problems are common among contact centre employees.
Productivity and the quality of customer service also suffer from the noise. However, simple measures can bring about significant improvements. For example, the acoustics in open-plan offices can be significantly optimised by sound-absorbing elements, such as special partition walls. The simple fact remains though that offices are often simply occupied by too many employees. The last twelve months have shown that many contact centre workplaces can also be relocated to the home. This reduces the number of people in the office and makes it quieter.
When you can't hear yourself well, you unconsciously speak louder. If the noise level increases, you speak even louder. Clearly, this does not create an ideal environment for agents. So how can we address this issue?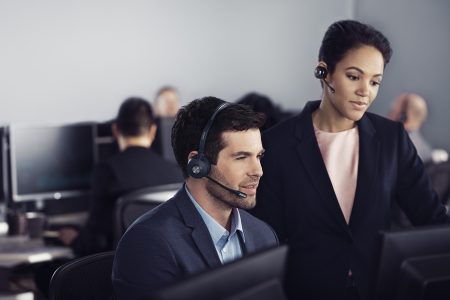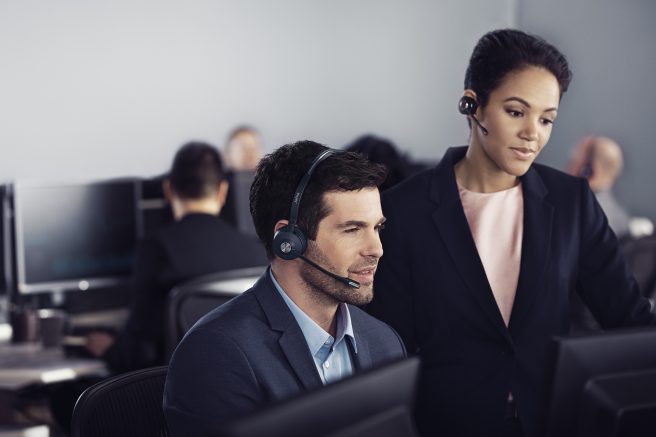 This is where professional headsets come in. Active and passive noise cancellation for the user, as well as noise-cancelling microphones for the other party, ensure a perfectly balanced sound experience. If the right products are chosen contact centres will see a significant reduction in noise. The agent can understand the caller better, the caller understands the agent, and thanks to sensitive microphone technology, the agent also hears himself as he would in a quiet environment, subconsciously speaking more quietly.
Apart from the lower noise and stress level, the callers also find the quality of the conversation pleasant and professional. The call feels more personal and the quieter, conversational atmosphere conveys a trusting and discreet environment in which the agent and customer can discuss their concerns in peace.
To increase call quality and improve customer satisfaction the use of high-quality professional headsets is an absolute must. In addition, an employee who is equipped with first-class technology also feels more valued. Ergonomics in the workplace, and in this case specifically the wearing comfort of a suitable, lightweight headset, also contribute to the well-being and health of employees.
In the longer term, working from home can be a real model for call centres. This will  reduce operating costs while increasing employee satisfaction. The resulting flexibility, in both work location and working hours, opens up better opportunities for companies to find qualified employees and may help retain them in the long term. In the open-plan office, fewer employees would be spread out over more ground, increasing spacing and significantly reducing noise pollution. Of course, in the home office itself there can also be numerous distractions, such as the house bell, construction and renovation work in the neighbourhood, and other household members that interfere with the customer experience and disrupt the agent's concentration. In general, however, the noise level in a home office is much lower than in an open-plan office. Nevertheless, technical equipment, especially a headset with appropriate audio quality, is just as important here and is a fundamental prerequisite for a successful customer conversation.
Agent and customer must be able to understand each other perfectly without effort, but beyond that, the voice also conveys emotions and even clues about a person's character traits. Michael W. Kraus from Yale University even observed in a study with 1,800 test subjects that the participants were extremely accurate in recognising emotions from their voices alone, and even better when they could not see their conversation partner. As such, both customer and agent should be able to pick out the subtleties in each other's voices in order to feel empathy for their counterpart on the other end of the line. The more natural and authentic the voice sounds, the better. Some headset manufacturers have been working on the transmission quality of speech and voice in the development of headsets for decades and are skilled at finding ways to improve conversation quality.
The future of customer service
The role of call centres and their agents will change significantly in the future. When customers themselves are able to answer their questions with the help of AI, call centres will increasingly be able to focus on complex concerns. The more demanding the tasks, the better the agents must be trained and trusted by organisations. Customers will also increasingly perceive the call centre agent as the key contact and voice of a company or brand. In a digital world where customers complete a large part of their journey online and in dialog with AI, the human component in customer service will take on a special role. The quality of telephone contact, which enables customers and service employees to have a direct, personal exchange and empathetic interaction, will gain rather than lose importance. Companies that invest in technology and their staff, will win and retain more customers in the coming years as service become the defining factor of business excellence.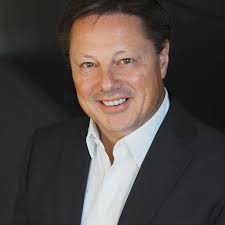 Nigel Dunn is Managing Director, Jabra EMEA North


The GN Group, founded in 1869, operates in 100 countries and delivers innovation, reliability, and ease of use. GN employs 6,500 people and in 2020 reported annual revenue of DKK 13.4bn. The Jabra brand accounts for approx. DKK 8.7bn and employs 1,900 people. GN makes life sound better and is Nasdaq Copenhagen listed.
For additional information on Jabra view their Company Profile