NSL, an Oldham based outsource company, has confirmed plans for its operational contact centre in Oldham to become a National Centre of Excellence in shared services. NSL originally moved into offices in Chadderton in 2012 with just 10 members of staff. Today, the company employs 130 people at its offices in Market Place in the centre of Oldham and, in a major jobs boost for the local community, says it is now looking to double in size over the next two years.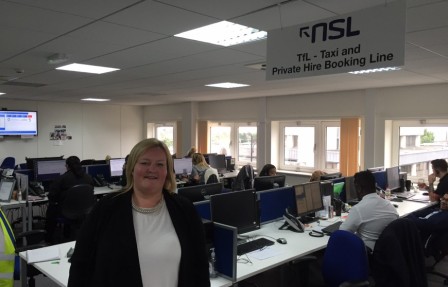 Shelley Key (Pictured) , Manager of NSL's Contact Centre in Henshaw House comented,
"We're now handling over 700,000 calls a year and the operation is going from strength to strength,"
"As we continue to grow the operation, we're expecting to handle the processing of 445,000 Penalty Charge Notices and 350,000 Right to Work checks over the next year. It really has been a success story and a credit to our highly motivated and growing team here in Oldham."
Having moved to more flexible and spacious town centre offices last summer, the company is now looking to build on this success by capitalising on new business processing and service opportunities for public and private clients. "We're already one of the largest employers in the town centre, but we also have plenty of room for expansion with space for well over 200 members of staff," adds Shelley Key.
"So securing our status as a national centre of excellence will not only be a feather in our cap, but will also offer plenty of new job opportunities for local people as more organisations look to harness our expertise and capabilities."
Councillor Shoab Aktar, Cabinet Member for Employment and Skills, said, '"NSL play an important part in shaping Oldham's employment and economy and are expanding every year. NSL has already employed more than 100 people at their new offices in Oldham – which just shows their commitment to the borough. They are continuing to support the Get Oldham Working scheme, helping to create new work experience opportunities and apprenticeships for residents. They are growing all the time and we hope NSL has a great future ahead."
The principal activities of NSL's Oldham operation is telephony, correspondence, back office processing and vetting for public and private sector clients. Current vacancies include customer services, telephony, correspondence and vetting roles, but NSL expects to be seeking new recruits in a wide range of different roles over the next year. It is also working closely with Oldham Council and supporting the 'Get Oldham Working Scheme' to create new work experience opportunities and traineeships.
---


Additional Information
For additional information on NSL visit their Website