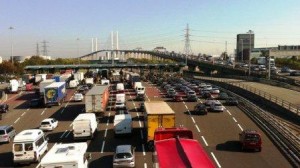 Over 300 contact centre jobs are being created in the UK ready for Dart Charge, which launches later this year to improve journeys at the Dartford Crossing.
In a speech Friday 4th July2 2014, Deputy Prime Minister Nick Clegg announced that sanef, who are providing the scheme's vehicle detection, charging and enforcement services, is investing over £1 million by creating its new customer support centre in Leeds. The Highways Agency is creating a further 23 jobs at its National Traffic Control Centre in Birmingham.
Dart Charge – a new payment arrangement being introduced from October 2014 – will improve journeys and reduce congestion at the Crossing. It is part of the biggest programme of road enhancements since the 1970's. Instead of stopping at payment booths it will give drivers more flexibility about how and when they pay the charge.
Deputy Prime Minister Nick Clegg addressed the International Economic Conference, part of the Grand Départ International Business Festival commented,
"I'm pleased to announce today that Sanef, the French motorway operator, is building its new £1 million frontline customer support centre in Leeds. This centre will create up to 300 jobs, including 10 new apprenticeships, and support Sanef's future operations in the UK".
Highways Agency Project Manager Nigel Gray said:
"Dart Charge will benefit the economy by improving journeys at the crossing, and these new jobs are proof that the economic gains from the project will be felt far beyond the Dartford Crossing itself. We are working hard to get ready for go live in October, and staff in these posts will help drivers using the crossing to set up and manage their accounts, which will be the easiest and cheapest way for drivers to use the crossing.
Charles Hewson, from sanef said: "We are delighted to have been awarded such a prestigious project and look forward to working on delivering an excellent solution for both the motorist and the Highways Agency. Leeds has been chosen due to its significant experience in Contact Centre operations along with its highly skilled and educated work force and I truly believe this is the start of a long term and mutually beneficial relationship".
Over 300 jobs will be created at the new sanef office in Leeds and will manage the new Dart Charge payments, including payment processing, account management, enquiry handling and penalty charge processing.
The Highways Agency is recruiting over 20 jobs at the National Traffic Operations Centre in Birmingham that will be responsible for the service and performance management of Dart Charge.