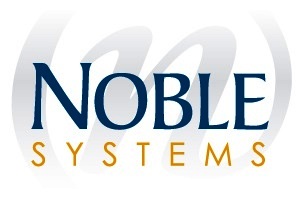 Customer Contact technology provider again ranked as the leader in outbound dialling technologies
Noble Systems has received the Frost & Sullivan 2014 Market Share Leadership Award for the North American Outbound Dialling Systems market. The award marks the second consecutive year that Noble has been ranked as the market leader. At the heart of its continued growth are Noble's key performance drivers of flexible deployment options, compelling feature set, and strength of offering.
The Frost & Sullivan North American Outbound Dialling 2014 Market Share Leadership Award is presented to the company that has demonstrated excellence in capturing the highest market share within its industry. The Award recognises the company's leadership position within the industry in terms of revenues or units. Noble Systems' client base has grown to more than 20 percent of the outbound dialler systems market, maintaining its position at the head of the marketplace.
"For the second consecutive year Noble Systems has achieved greater than 20 percent market share in the Outbound Dialling Systems market, increasing its share over 2013 and maintaining its market leadership position," said Nancy Jamison, principal analyst, Customer Contact at Frost & Sullivan. "The company has achieved this through continuous innovation, a keen knowledge of and execution on market requirements, and superior support of its customers."
Colin Chave, General Manager of Noble Systems EMEA, states, "We're delighted that Frost & Sullivan has once again recognised Noble Systems with this prestigious award. Our primary goal is to deliver solutions that meet the broad spectrum of contact centre technology; this begins with superior outbound dialling technologies and extends to a complete, unified customer communications platform. As we celebrate our 25th anniversary this year, we are proud of our achievements and appreciate the recognition by Frost & Sullivan."
For additional Information See Noble System's Company Profile